Let customers speak for us
A supreme version of the Cycloid
I had a Cycloid 1.6 and I was critical of it. A lot of things were to be left desired. The HD however is one of the best plastic flippers I've ever tried. It feels very premium and while it's under 3oz, it doesn't feel like it lacks any momentum due to the weights. I forgot to mention in my video just how damn quiet this bali is! I flipped it in the same room as my sleeping partner and they didn't stir (it's not silent though.)
Fits on the Canto Origin!
They flush perfectly with the canto origin and they make it feel oh so slightly more neutral. Thanks Zippy!
That's my ultralight in the pics
I begged zippy to make blade inserts to balance out the handle inlays, which I loved cuz it made it more comfortable to flip. But because of how light it is, it made it a little bit more handle bias and I prefer neutral. So I sent zippy my ultralight so he could use it to test and now my ultralight is LITERALLY PERFECT.
These helped me learn ladders!!!
These were my first Zippy mods and they ARE AMAZING!!! It's not just the weight difference, but I started to get some ladders on the move, which I had always struggled with, but not this time!!! Zippy spacers DO GIVE YOU GRIP! I no more had to wonder abt these wonders! The only problem was that it was quite difficult to decide which colour I wanted since they all looked quite pretty. I ended with picking teal and orange (fire and ice combo). Deciding to treat yourself to something nice, but you already have a nice bali? Try some Zippy mods.
Nice add on to the Vulp
Fun to play with the balance, install easy after watching the video. Fit is great, no gaps, very secure. Glow in the dark is a bonus!
Great bali add
Fit is fantastic, secure , and protective. Glow ni the dark is a nice touch
Unique and really good
I was lucky enough to snag one from his last drop. It's very very neutral with no weights and even 2 weights feel neutral and requires more energy to get movements smooth. I prefer 3 weights, tad handle bias but that helps carry the momentum well, especially cause the stitch handles are LONG. A tad longer than machinewise handles lol. Overall it's slowly becoming one of my favorite daily flippers.
Cool but not for me
I thought I would love this mod. It definitely increases length, making choker n ladders easier. I didnt like the overall look n flip feel with the extra length, but that's just my opinion. Still a good mod for those that want to try. I prefer the stock way after trying, but wouldn't know until I tried 😅
Made me like my Kraken more. (4 MONTH REVIEW) (Krake Raken 2.5)
First, I would like to start with the order processing. I ordered the Kraken 2.5 inserts and handle caps at midnight one night. The next morning, 10 hours and 4 minutes later, I already had a shipping tracking number. 5/5.
Secondly, I want to touch on the installation. Fairly easy, the blade inserts took some effort but nothing too hard. The fit is very good and I have not had any issues with handle caps falling off or insert coming out. 5/5.
Finally, I will talk about the performance. I own a couple of bali's, out of my trainers, my kraken was not my favorite. Completely stock it is a very good flipper don't get me wrong, but not my favorite. After installing the inserts with all 3 weights and the handle caps my opinion changed. This bali is now my favorite trainer out of my collection. The handling is much improved and the balance feels better. I don't really know how to put into words all the differences, but it feels so much better. Also that annoying ring the stock trainer has is fixed. 5/5
Last thoughts. I have been using this mod for 4 months now and I can confidently say it is a major improvement. If you are on the fence about buying this mod, buy it. For only $19 you can substantially improve the performance of a stock kraken and silence that pesky ring.
Absolute game changer
Cant recommend enough, takes the vulp from a 5/10 to an 8/10. been loving three weights with slim caps.
Nice
I have a complete Stitch and I love it. The handles being compatible with Krakens and Reps is really cool and gives you a lot of options for how to use them. Plus they come with the best spacers out there.
Stitch
I snagged a stitch from the first drop and it's been amazing. Stitch handles on the stitch recurve blade felt amazing to flip. Handles feel long but feels real good when flipping. The zippy ends give the stitch some very good jimping and the adjustable weights helps for changing up the balance. Especially when changing up the blades. It's very easy to change from kraken to reps. I've tried bowies, tantos, kraken reblades from maikuro, to many rep blades. The thing that makes this shine is how versatile it is.
Bandage stitch
Got my stitch in the first drop and it's gunna be hard to get this thing out of my hands for the foreseeable future. Considering getting a second pair of handles just for my rep reblade because I don't wanna take this masterpiece apart
I was lucky enough to be included in the Stitch passaround and got to try these handles out before they were released. Very cool design, extremely customizable weight distribution which pairs well with the multiple blade platforms the handles are compatible with. The grip was great with the cutouts and I liked how the the Zippy spacers stood proud of the scales, made the jimping feel a lot more functional. The red handle inlays with the Xs made me think of that Vin Diesel movie but it's cool, there are hella color options. If you've ever flipped a Kirat 2, these handles feel like that except better in every way. Buy them if you can get in on a drop, I'm sure you'll be able to find a blade and a balance that suits you.
Coolest rehandles in the game.
The quality build of these handles is unmatched. I've flipped and collected hundreds of Balis. I am a big fan of fun rep builds… I've never flipped or used handles like these. They are incredibly well built and balanced for any blade shape or style you have. On top of that… the ability to swap the zens and plop in a Kraken blade blew my mind. My struggle now is trying to decide which setup is the best for me. Too many options and so many cool ways to customize it with inserts and spacers. These things are insanely well crafted and feel naturally grippy due to the well placed and aesthetically pleasing cutouts. Highly highly recommend them.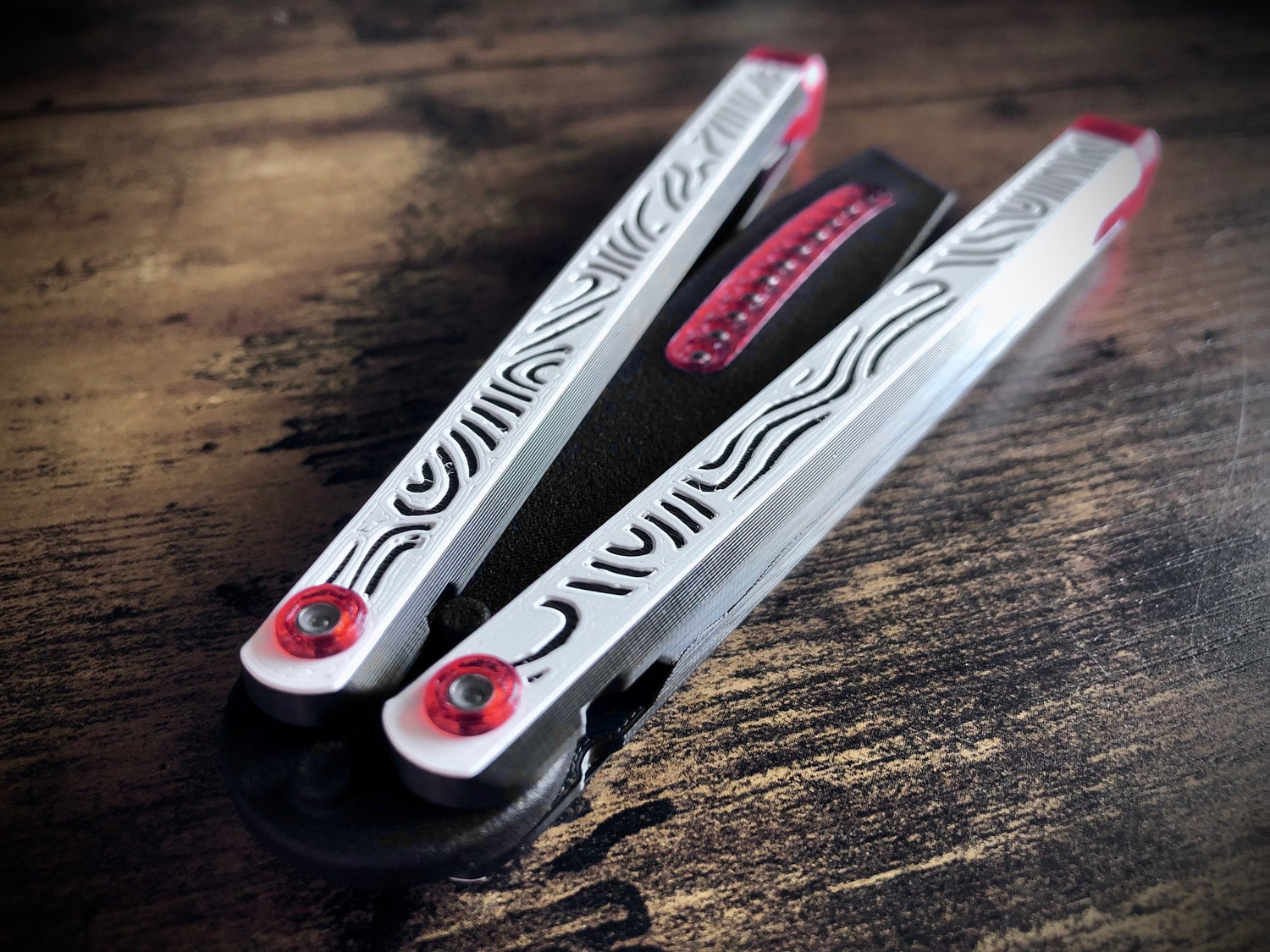 Say goodbye to threadlocker...
The original balisongs that run bearings on dual grooved-washers. Smooth, controlled flipping with unrivaled axial stability...All without the need for threadlocker.
Learn More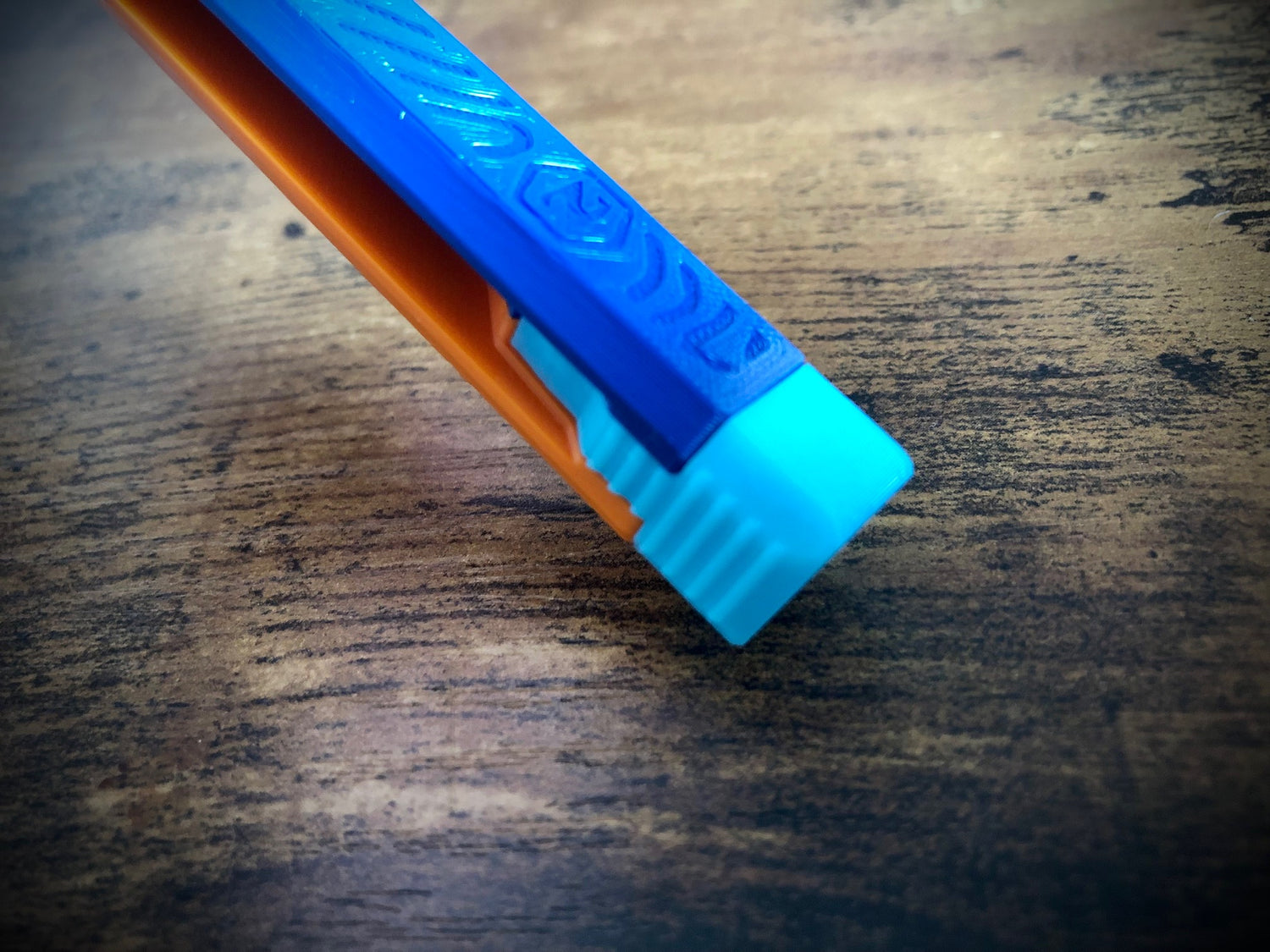 ...and hello to adjustable balance
Customize the balance on your trainers to fit your flipping style. All in under a minute.
Learn More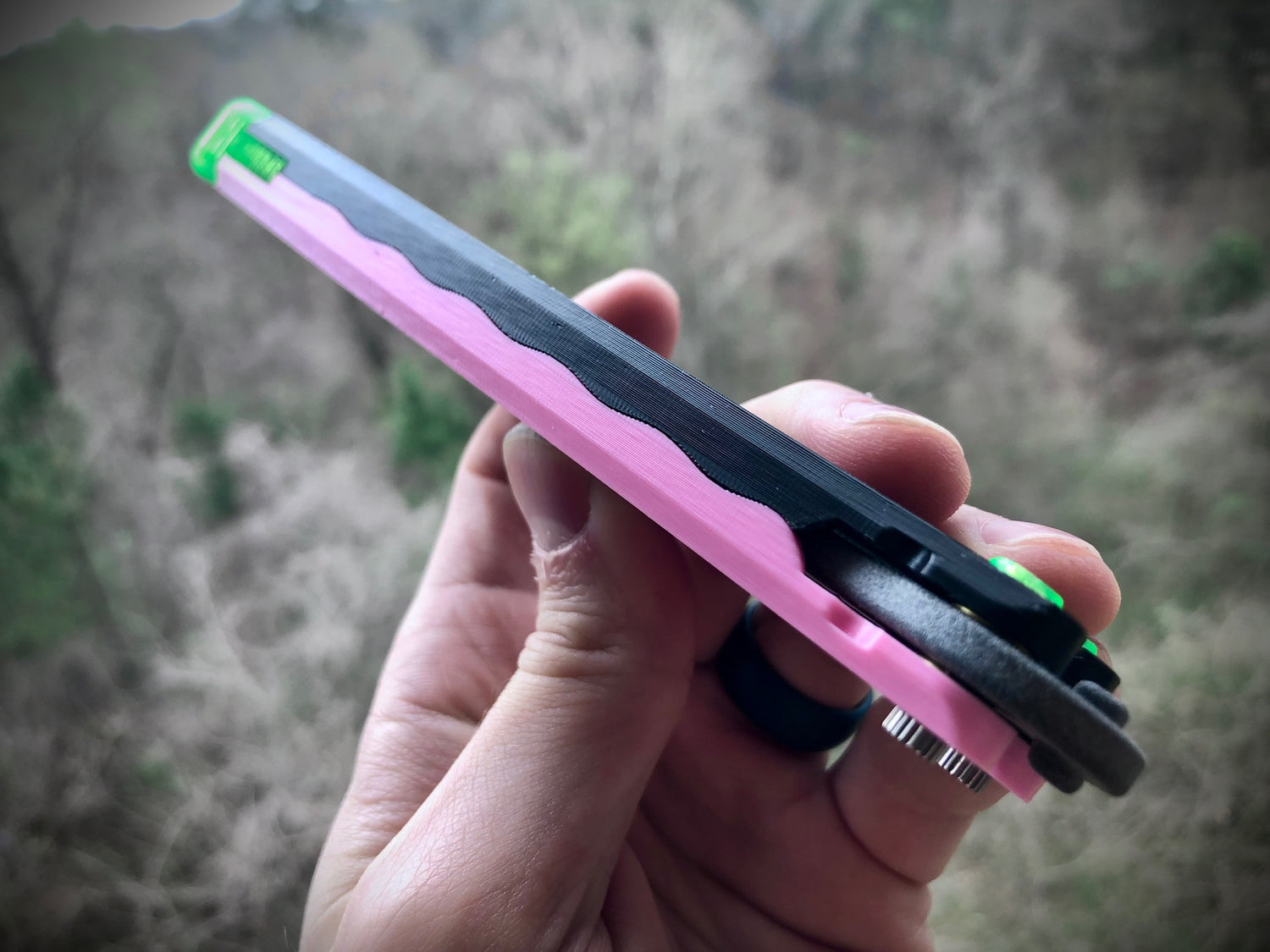 Don't compromise...
Zippy's are made from the engineering thermoplastics Glass-Filled Nylon Polyamide 12 (PA12) and Acrylonitrile styrene acrylate (ASA), enabling them to handle the rigors of flipping with ease.
...on attention to detail
Made to flip, built to last. No corners cut.