Balance Insert Mod for Squid Industries Krake Raken Trainer [v2.5 and v3 Ring Silencer]
Regular price
Sale price
$14.00 USD
Unit price
per
Sale
Sold out
Adjust the balance of your Squid Industries Krake Raken trainer and silence the ring with this custom-made Zippy blade insert. The insert houses removable tungsten weights which enable the Kraken trainer to have a more neutral (less handle biased) balance profile. Compatible with Krake v2.5 and v3. Will fit v2 poorly (loose spine and tight edge inserts that may be challenging to install).

Assembly Instruction Video v2.5: Snap in the inserts into the cutouts; make sure you insert the "tip ball" after you install the insert.

Assembly Instruction Video v3: Snap in the inserts into the cutouts with the weights pre-installed.

-Removable Tungsten weights reduce the stock handle bias and lets you adjust the balance on the Krake Raken Trainer to fit your preference. The weights can be popped out with the tip of a ballpoint pen and can be popped in by pressing down on a flat surface.


-Silences the ring of the Krake Raken Trainer.

-Fits perfectly in the Squid Industries Krake Raken Trainer with an "edge lip" so it won't fall off on hard drops.


-Made of a shatter-proof rubbery polyurethane.

-Add-on optional Zippy Slim Caps for only $5 (30% Discount) to protect the handles of the Kraken and add color.

-v2.5 Kraken: The Zippy Insert Mod adds 0.132 oz with all 3x weights, bringing the Kraken v2.5 weight from 4.162 oz to 4.294 oz. The slim caps add an additional 0.085 oz.

-v3 Kraken: The Zippy Insert Mod adds 0.120 oz with both weights, bringing the Kraken v3 weight from 4.176 oz to 4.296 oz. The slim caps add an additional 0.085 oz.

Recommended balance configurations:

v2.5: I recommend using all inserts and weights. Slim caps can be added to protect the handles and/or add a slight handle bias. For ring silencing, only the long spine insert is needed.

v3 for ring silencing only: Use only the long spine insert with or without the weight, per your balance preference.

v3 without slim caps: I recommend using the spine insert with weight installed, in addition to the 3x small tip inserts. In this configuration, I do not recommend installing the 2x larger inserts near the tang, as they will make fast chaplins unstable without slim caps.

v3 with slim caps: I recommend using all inserts with all weights installed when using slim caps.

Share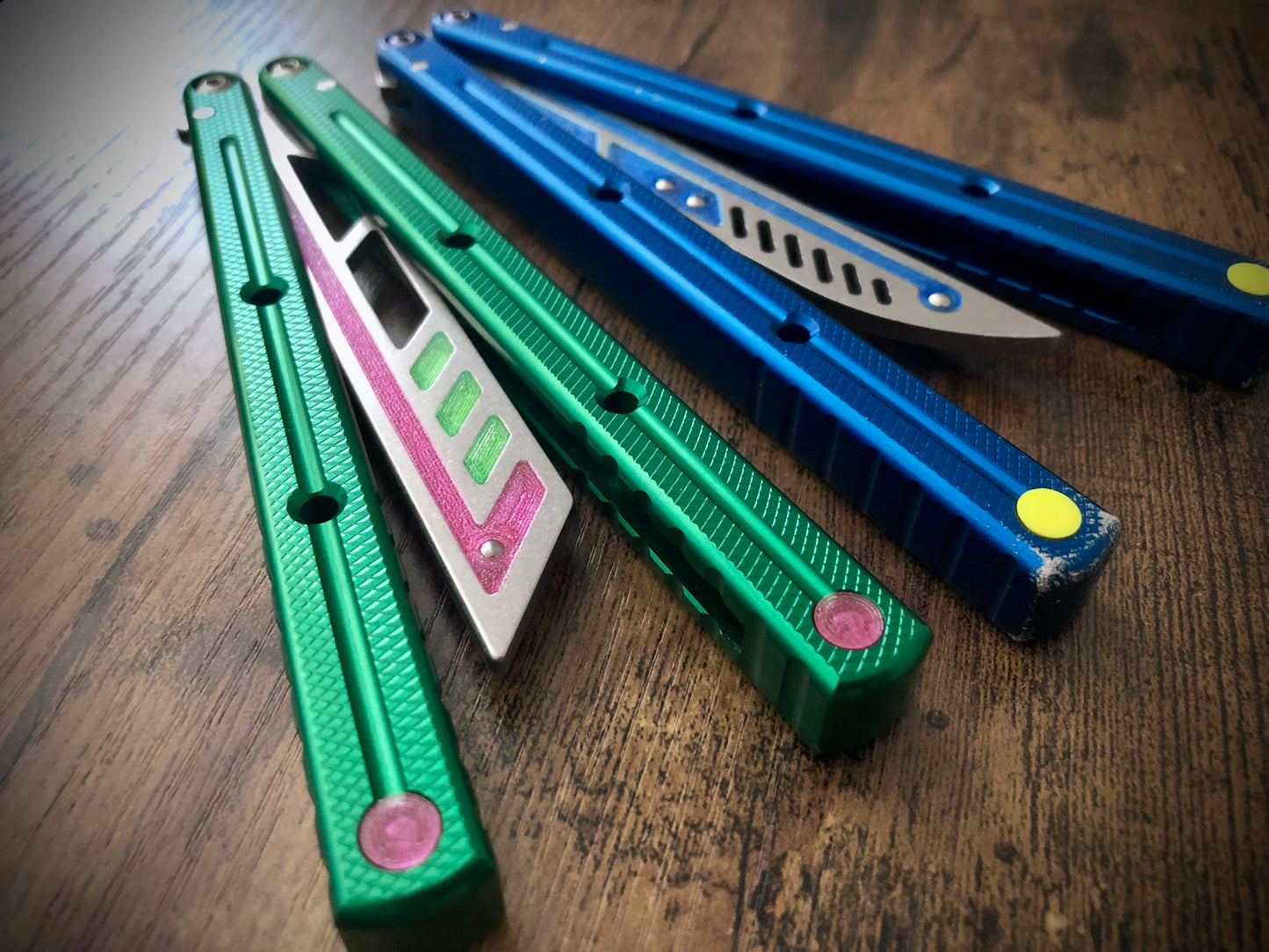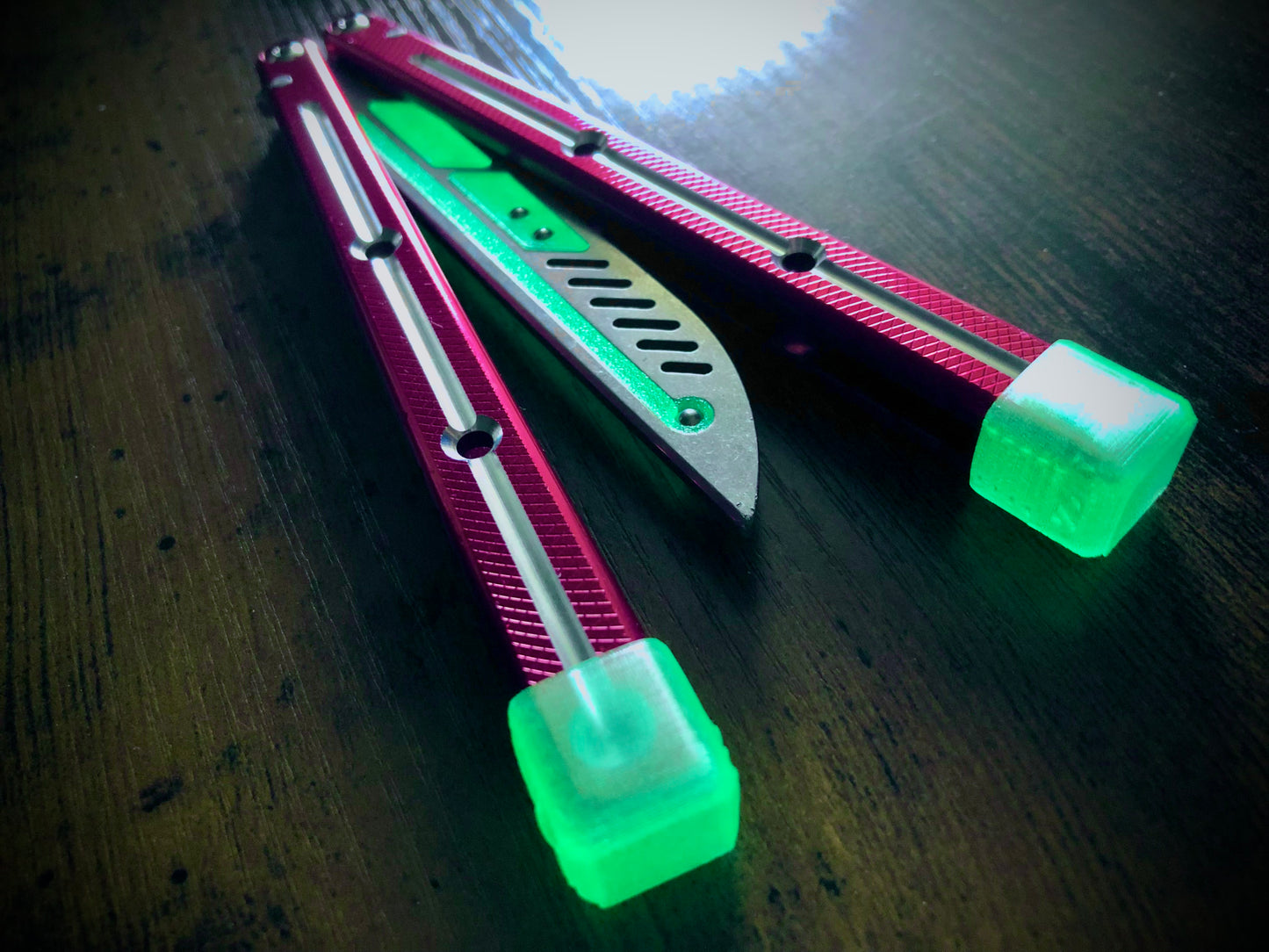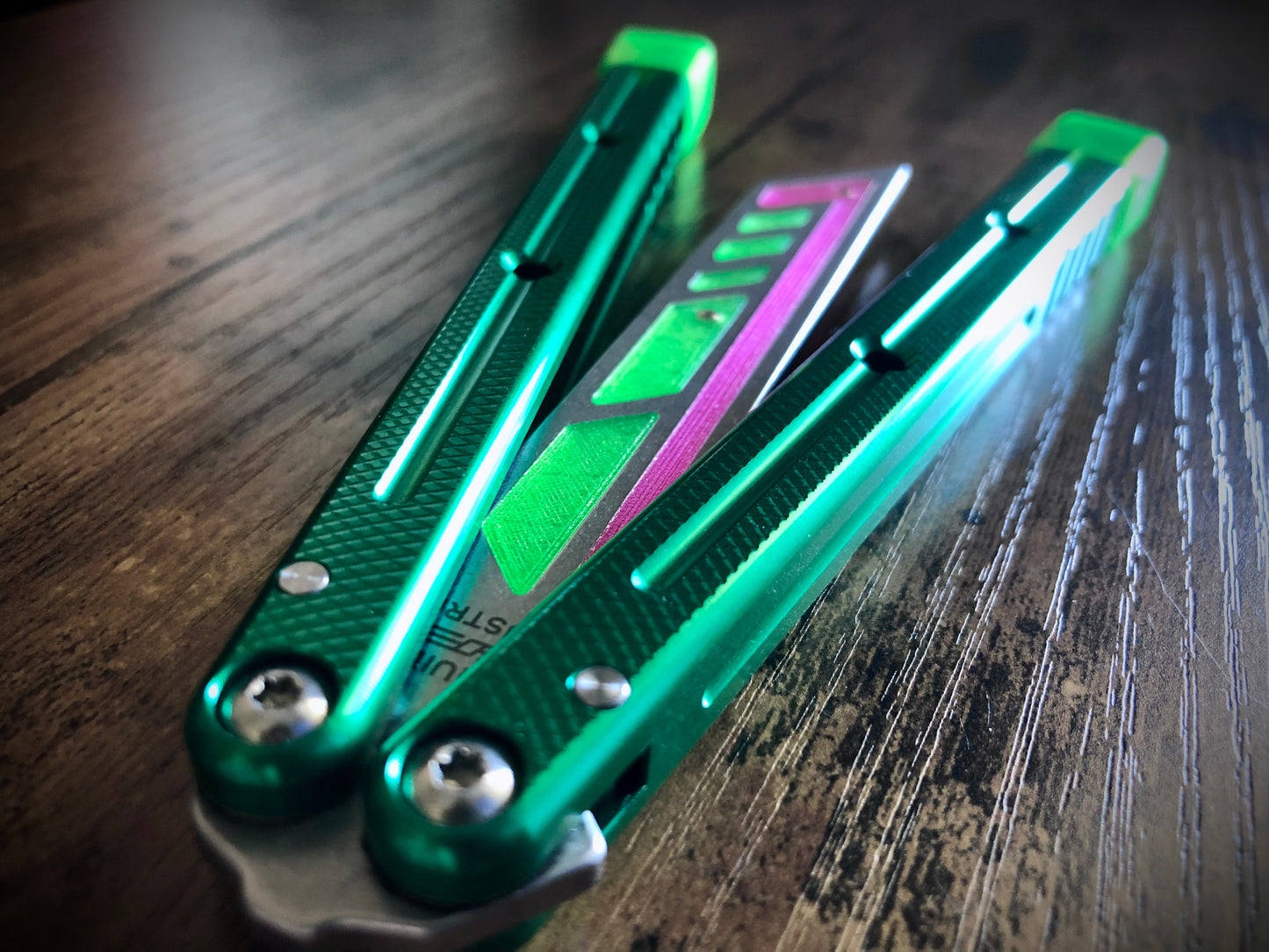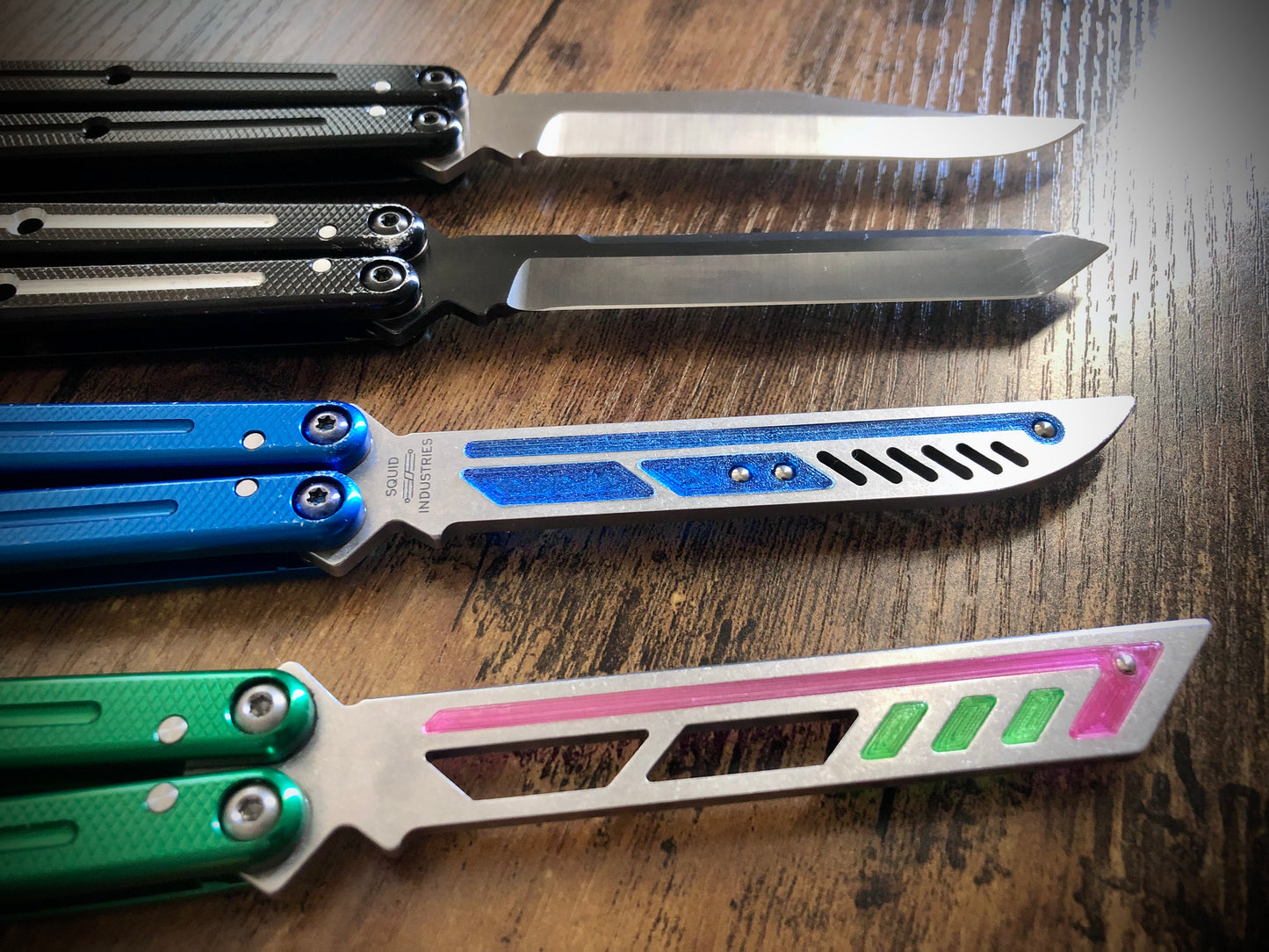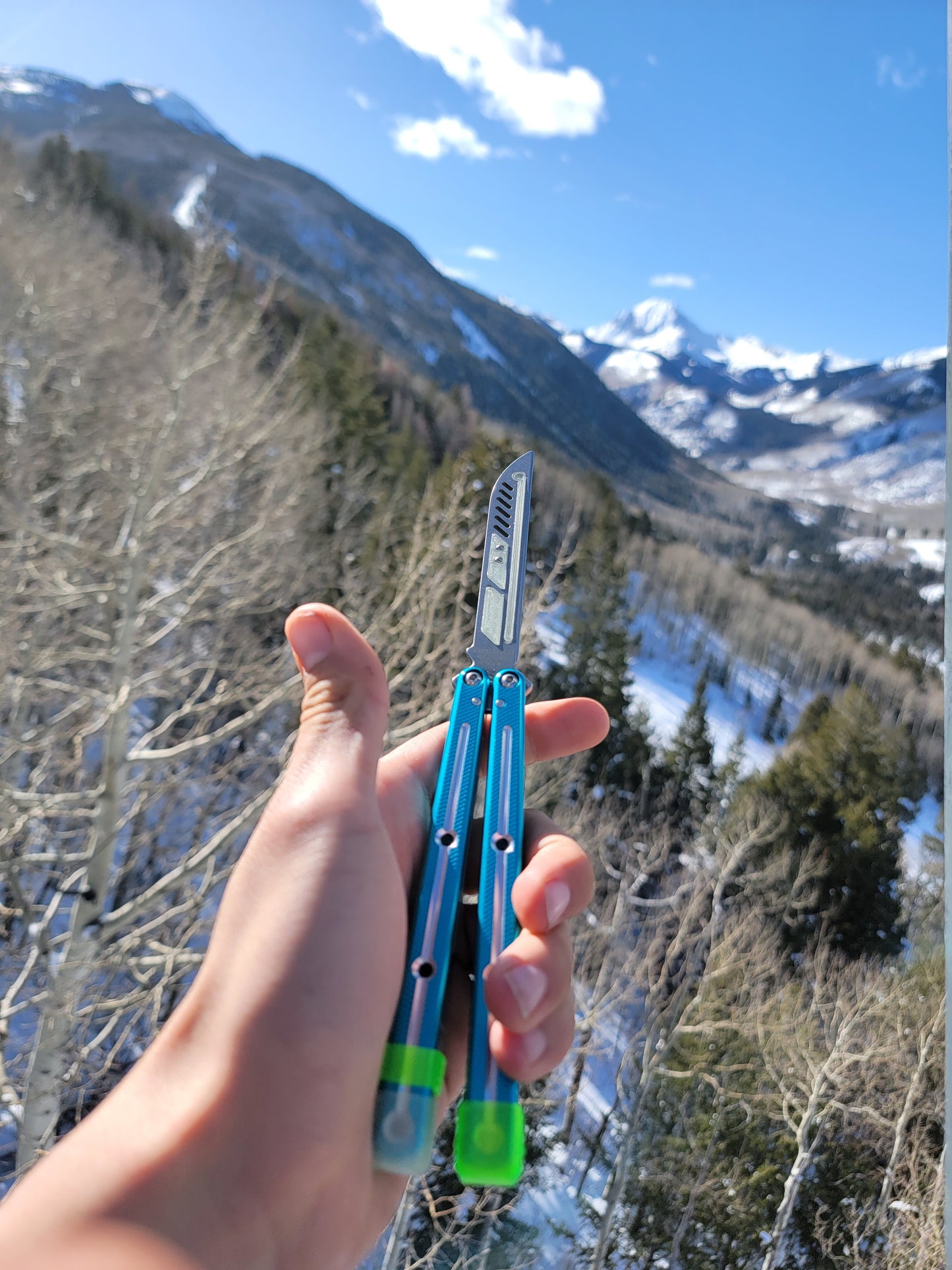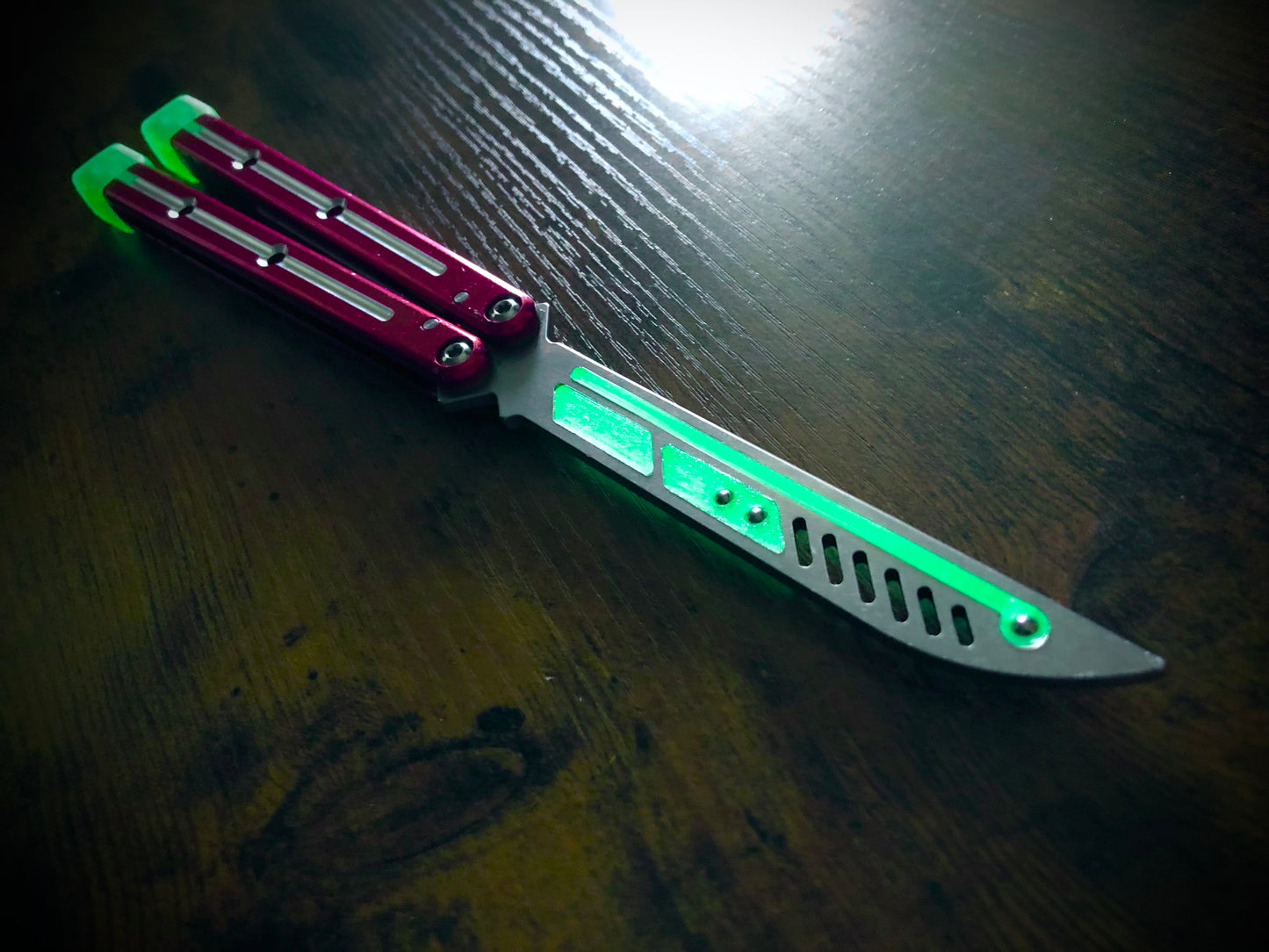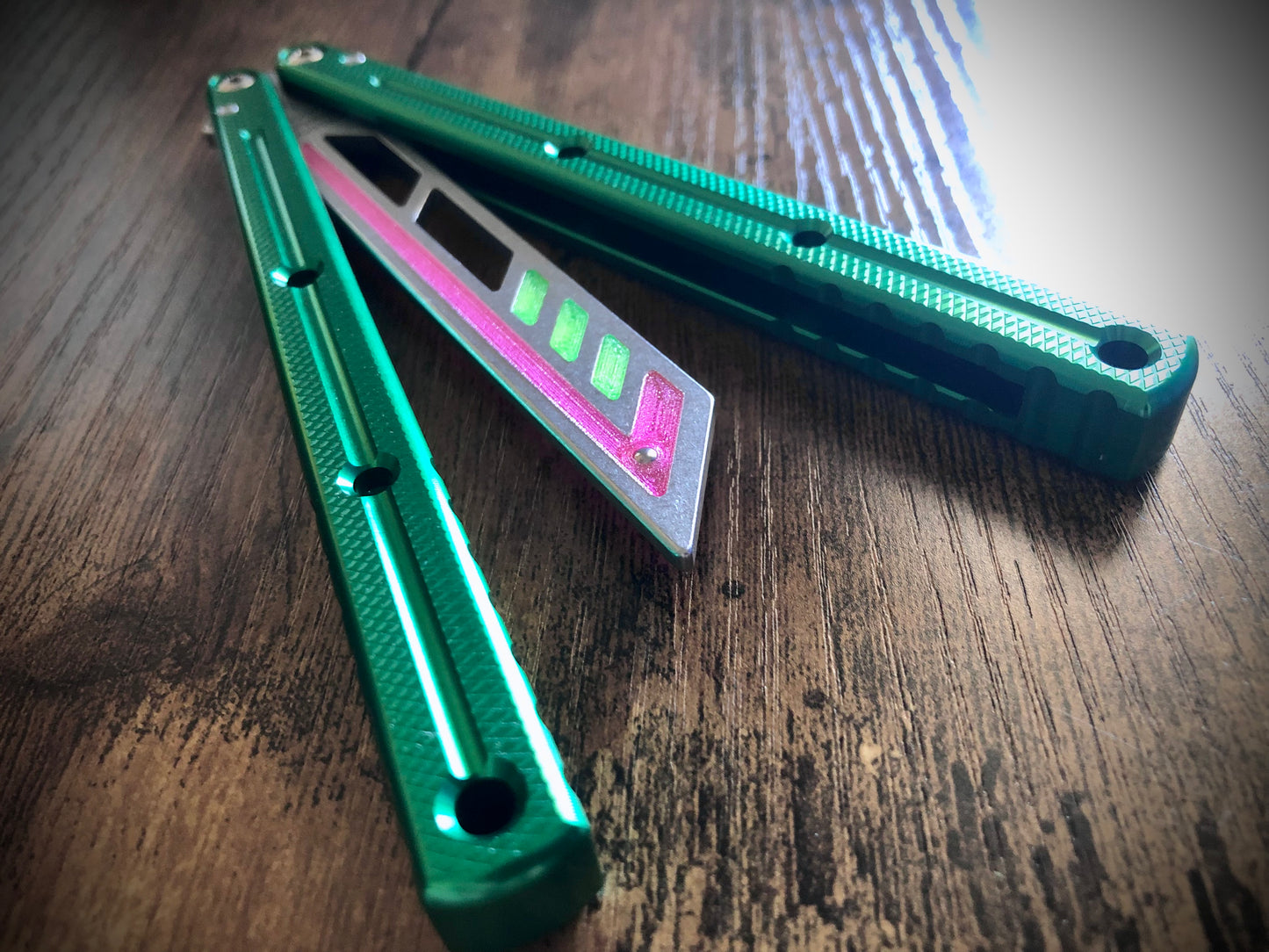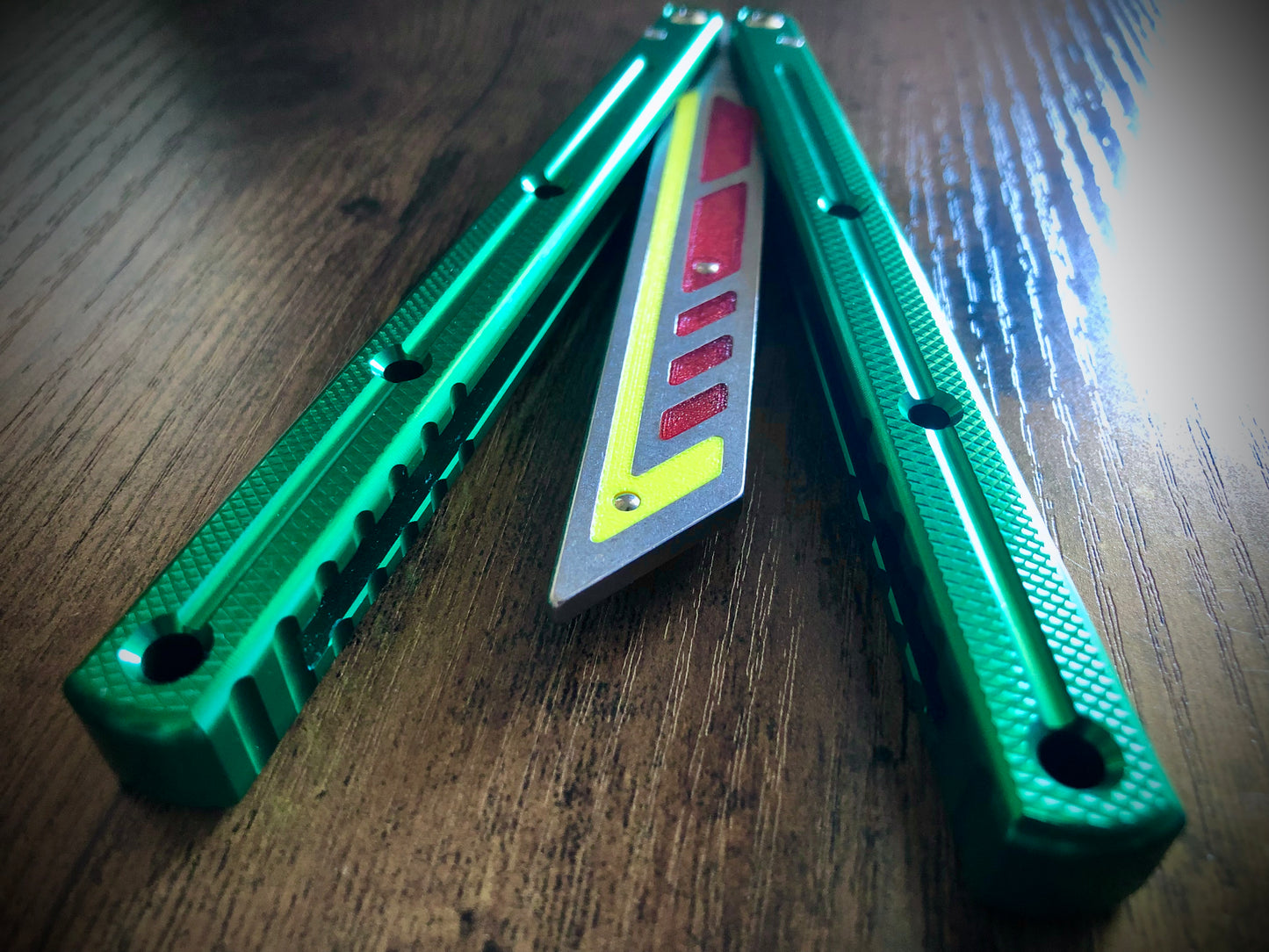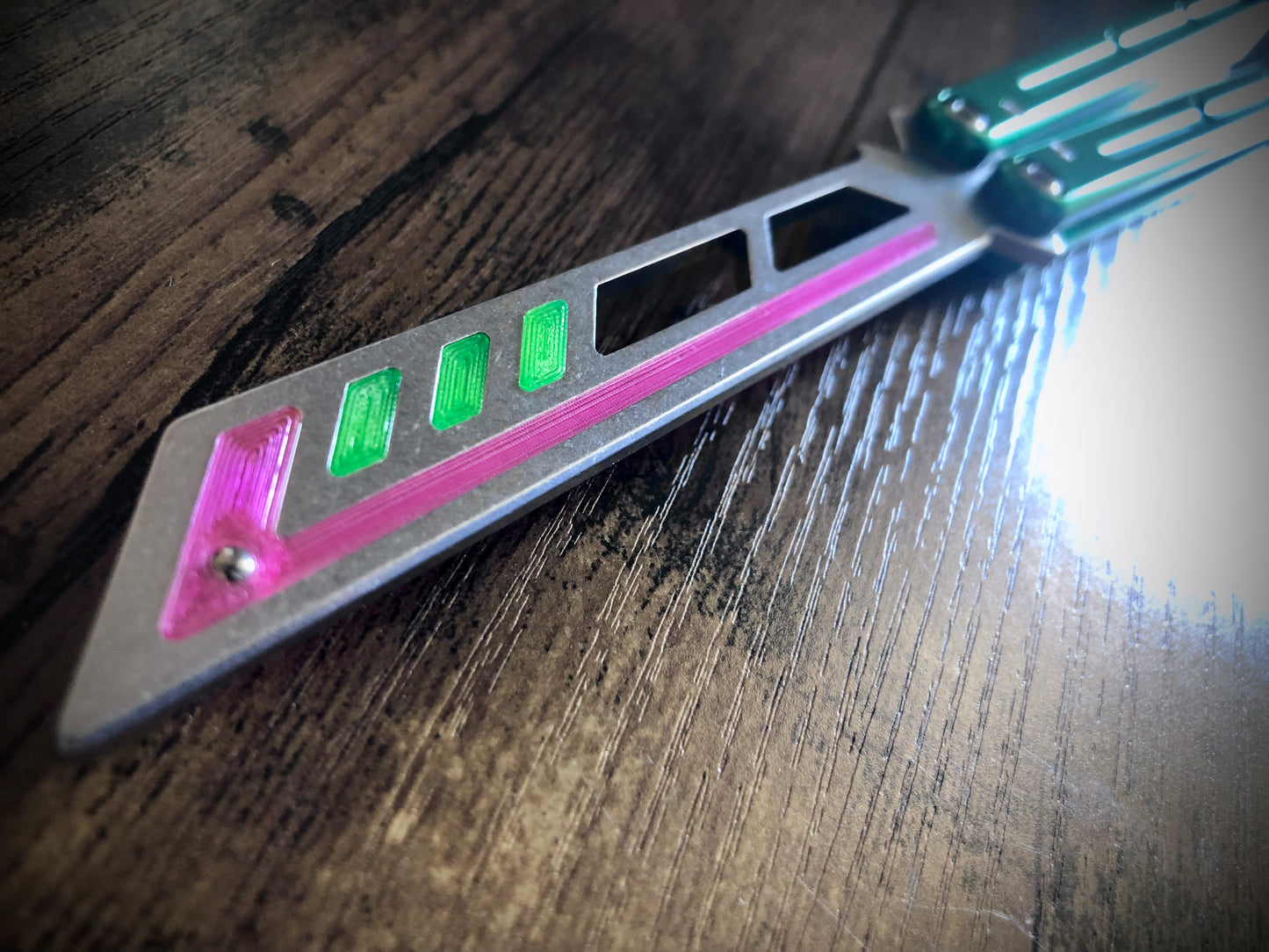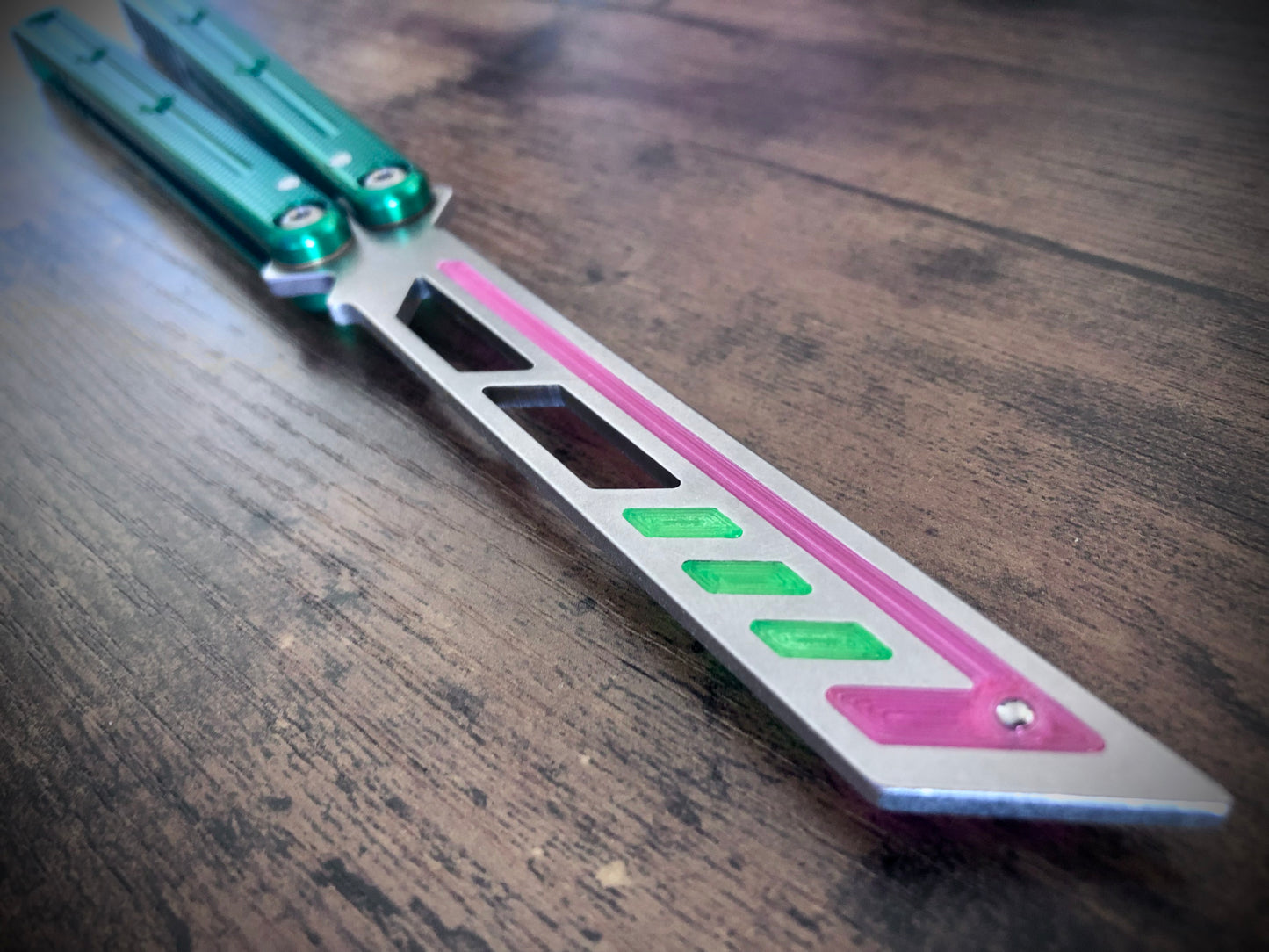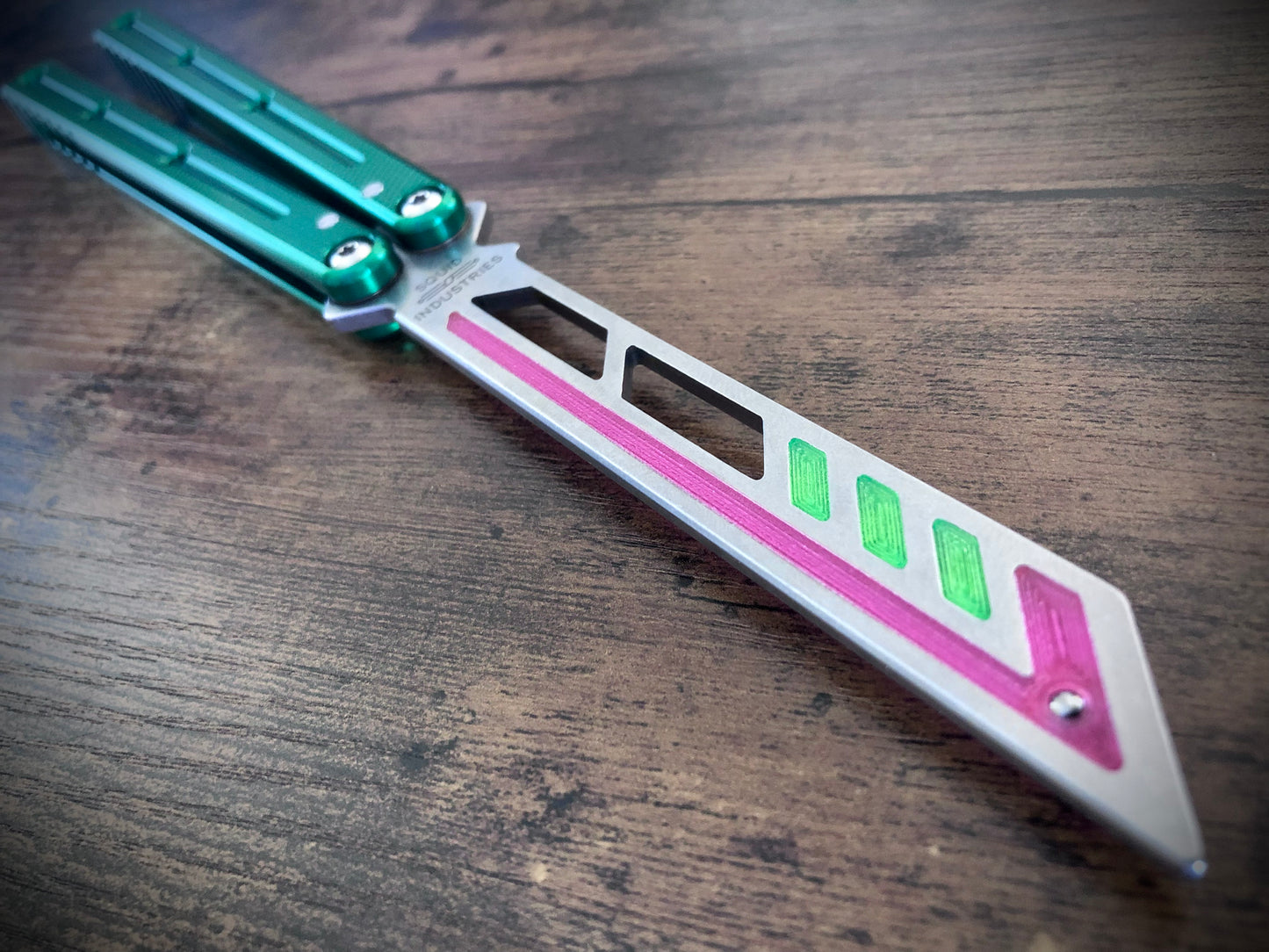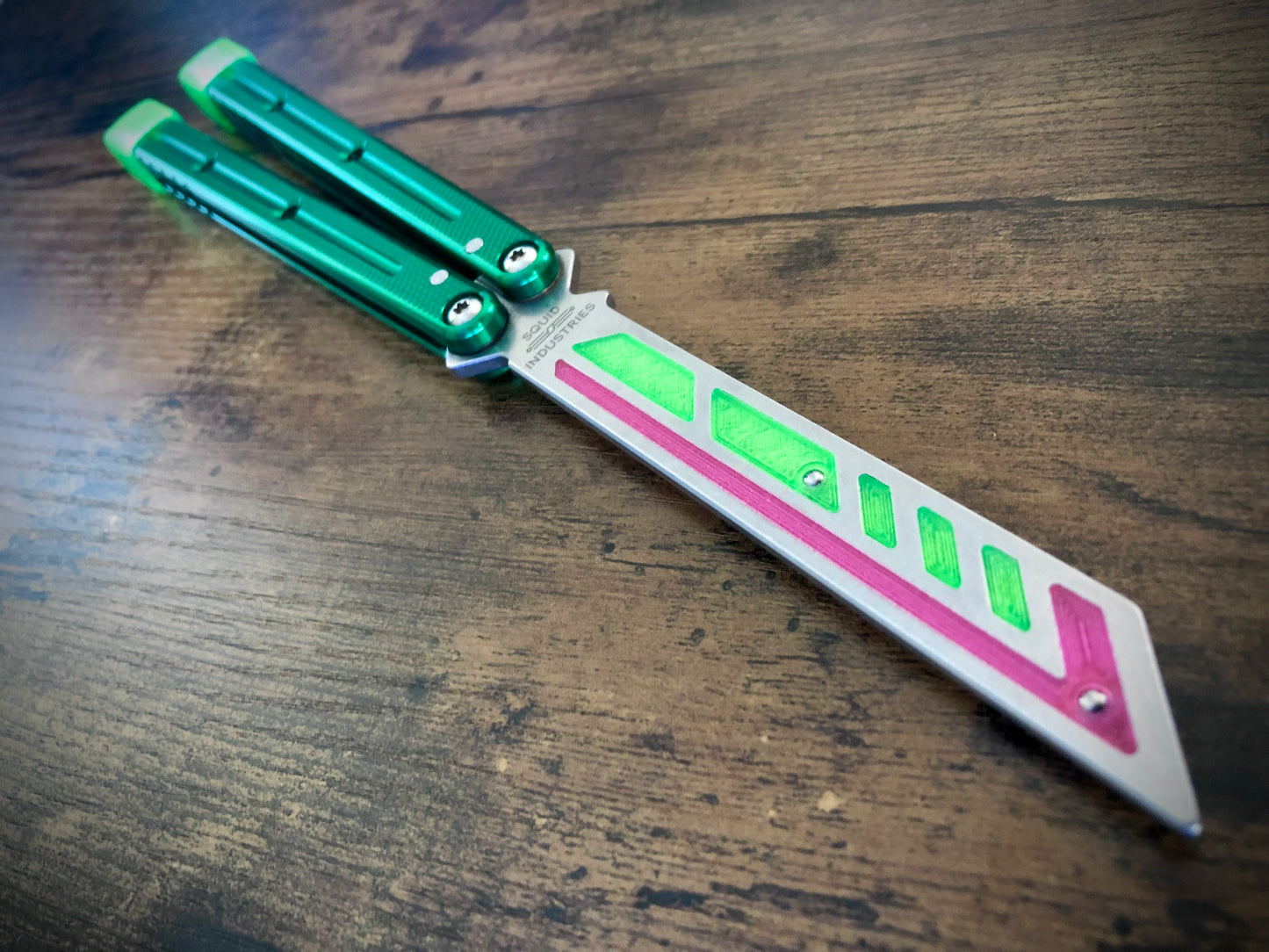 Made me like my Kraken more. (4 MONTH REVIEW) (Krake Raken 2.5)
First, I would like to start with the order processing. I ordered the Kraken 2.5 inserts and handle caps at midnight one night. The next morning, 10 hours and 4 minutes later, I already had a shipping tracking number. 5/5.
Secondly, I want to touch on the installation. Fairly easy, the blade inserts took some effort but nothing too hard. The fit is very good and I have not had any issues with handle caps falling off or insert coming out. 5/5.
Finally, I will talk about the performance. I own a couple of bali's, out of my trainers, my kraken was not my favorite. Completely stock it is a very good flipper don't get me wrong, but not my favorite. After installing the inserts with all 3 weights and the handle caps my opinion changed. This bali is now my favorite trainer out of my collection. The handling is much improved and the balance feels better. I don't really know how to put into words all the differences, but it feels so much better. Also that annoying ring the stock trainer has is fixed. 5/5
Last thoughts. I have been using this mod for 4 months now and I can confidently say it is a major improvement. If you are on the fence about buying this mod, buy it. For only $19 you can substantially improve the performance of a stock kraken and silence that pesky ring.
Couldn't have asked for better!
I had some money given to me on a gift card and I thought that this would be the a place to look at after hearing about the modifications from Blade Bias. I decided to get weighted inlays and slim caps for my teal kraken trainer. The caps weren't my favorite on the kraken, so I decided to put them onto my Gldr Original 4 Balisong and they worked great. The inlays and tungsten bearing weights near the top of the blade helped reduce the blade bias on the kraken and it has helped my get a more flowy experience when do combos.I wished that I would have bought a sticker after the order, but after receiving my package in about 4 days, I had actually been sent a free sticker with a handwritten message saying I hope you enjoy! I will for sure order from this site again for upcoming purchases like handles for my kershaw Lucha and for my Nabalis Vulp. I do with that they had an option to get blade weights for the Gldr original 4, but I do realize that it is not that widely used of a Balisong. What a great experience!!
Beautiful.
I got the full kit. They all fit great, and everything matched the colors I ordered. It's really fun to try different configurations. Having the ability to control the balance of a specific Bali is amazing!
I almost sold my Kraken
I was going to sell my Kraken trainer but after I got the inserts I decided that I would keep it. It makes it flowy in fans and other tricks Also the glow caps are super fun but they don't last the longest.
V3 Inserts are amazing
I personally have never flipped a live blade kraken, but with these inserts add much needed tip weight to the v3 trainer. You can fan and carry momentum so much better than without. Plus they get rid of the ring. My prefered setup is the long tang insert with the weight + the three small ones.
Product Information
International shipping

International Shipping

Zippy ships international, but the buyer accepts the risk for lost, damaged, or seized packages-it is the customer's responsibility to comply with all local laws and regulations when importing and using this product. It is the customer's responsibilities to be aware of all import requirements when ordering, including but not limited to paying customs/import/duty fees. All international customers: it is your responsibility to looking up your country's customs requirements when you order to ensure you are in compliance, and interface with your country's customs and pay all associated fees if necessary.

For EU customers, be advised that customs will apply a VAT fee of approximately 30€ for importing products that exceed 100€. This is subject to change depending on up-to-date EU regulations; it is the customer's responsibility to verify this at the time of your purchase.

For questions and concerns (looking at you, Aussies), please contact me at zippybalisong@gmail.com. If the Zippy is shipped in 2 packages, you will need to assemble the trainer following these instructions:

My package hasn't arrived, or my package is lost; what should I do?

Noooooo! Don't panic yet. So far I've never actually had a package get lost in the mail, although delays with USPS aren't unheard of, especially if the shipping is international. If you're a US-customer and your package is lost in the mail, appears lost in the mail, or was marked delivered but wasn't actually delivered, call the USPS immediately (1-800-275-8777)**. The faster they get on the case, the more likely you'll reach a timely resolution and get your Zippy ASAP. You can email me about it, but once I ship it out, I don't have access to any additional information that you don't--I'm just going to refer you to call the shipping carrier for resolution.

**Some tips when calling USPS:

(1) Do not use speakerphone, as this will confuse the automated system.

(2) From the automated menu, say "Package," and follow the prompts with your tracking number.

(3) When it offers "visual mode," I recommend you use it. It's faster and more streamlined.

(4) At the end of the automated system which will track your (delayed) package, say "agent" or "representative" so you can speak to an agent and explain the issue.

(5) Sometimes they only allow the sender to open an investigation. If that's the case, shoot me an email asking for the shipping label, and then use the return address information on the shipping label to provide the sender information.

If you are an international customer and your package hasn't arrived yet, contact your local postal service that interfaces with USPS to evaluate the situation--worst case scenario you may need to reach out to customs to see if your package made it through or was seized. It is the customer's responsibility to comply with all local laws and regulations when importing my products.

Hopefully your package is just delayed (this has always been the case historically when a package appears lost), but if it is actually lost in the mail, I'm very sorry. Believe it or not, it's just as heartbreaking for me as it is for you, since I make every balisong myself and put a lot of love into each one. Unfortunately, I am unable to take responsibility for packages that get lost in the mail (or seized by customs). I offer a variety of shipping options which have different levels of pricing and reliability/risk, and it's up to you to choose what is best for you. I am unable to replace lost packages for free, since each product takes me a considerable amount of time and financial investment to make; I'm not a big Amazon company that manufactures their stuff overseas. Thank you for understanding.
Warranty & Returns

Warranty

If part of the Zippy breaks within 1 year of purchase and it affects functionality, I will replace it for free. Contact me at zippybalisong@gmail.com

In order to qualify for this policy, the issue must affect the function of the balisong. Normal wear and tear (including scratches and dings caused by repeated impact) is not covered by this warranty unless it affects the functionality of the balisong or I determine it to be the result of a manufacturing defect. In order to reduce cost for the customer, the Diode is not covered under the Zippy Warranty. Replacement Diode parts can be purchased here.

Worn M2 x 0.4mm nylock nuts are consumables and should be replaced from time to time if you disassemble frequently--these are not covered by the warranty.

Returns & Order Cancellation

I do not accept returns or refunds. All orders are final. Packages that are delayed or lost in the mail are not my responsibility. Many of my products are made-to-order and by the time you contact me to cancel, I may have already begun working on your parts. I am a one-man operation and returns are far too time consuming and costly to deal with. I appreciate you supporting my small business.
Disclaimer

 

By using this website and/or purchasing any Zippy Balisong LLC products from this website or other sources, you agree to abide by all of the following terms and conditions:

Disclaimer

Zippy Balisong LLC modifications are aftermarket mods that the customer installs themselves. The mods do not include a knife or trainer, and it is the customer's responsibility to follow the assembly instructions (listed on each product page) when installing the aftermarket Zippy mods. If you have any questions during the assembly process whatsoever, do not hesitate to contact me for clarification (zippybalisong@gmail.com). Improper installation can lead to property damage and injury, and the onus is on the customer to abide by safe practices when assembling and using these products--any injuries or damage to the customer's knife/trainer or other property during the assembly process or use of the balisong is the responsibility of the customer. Balisongs (whether trainers or knives with a sharp edge) carry inherent risks, and it is the customer's responsibility to operate all Zippy-modded balisongs in a safe and responsible manner to themselves, and everyone around them, including pets and property. To ensure safety, the customer must verify proper hardware tightness (including threadlock and installation), structural integrity of the balisong and all installed mods, and function of the balisong and all modifications prior to each use. It is the customer's responsibility to read the entire product description for each Zippy product they use to ensure they are using the product within recommended guidelines (for example, per the product desccription: the ZippyLucha should not be used at a functional work knife or manipulated over hard surfaces such as concrete). It is the customer's responsibility to comply with all international, federal, and local laws and regulations when importing and using these products.

Zippers, Cycloids, and Diode's are not real knives. These products are balisong trainers, not real knives. The blades are made of plastic, weighted with tungsten. This is not a weapon or a cutting tool and is used for recreation and training only. It is the customer's responsibility to comply with all international, federal, and local laws and regulations when importing and using these products.

You agree to not copy, modify, creative derivate works of, or reverse engineer, in whole, or in part, for any purpose: Zippy's website, products, and intellectual property, including concepts, prototypes, all products, designs, text, and photographs.

Privacy Policy

When purchasing products, you agree to provide accurate information (name, contact method such as email, address, credit/debit card information, and other information. Zippy Balisong LLC reserves the right to request identification following payment to verify your identity and prevent fraud. Zippy Balisong LLC will not sell your personal information to third parties. Zippy Balisong LLC will not share your personal information with third parties without your permission except in response to inquiries by law enforcement and government agencies, or if I have reason to believe your use of the website and purchase of products is for an unlawful purpose. These cases that do not require your consent to share data consist of: court order, a subpoena, legal process, governmental request, or to investigate fraud.
Reviews

Diode Review: Disuko Flips and 0x9flips

ZippyLucha Review: u/BuffaloDingus

General Zippy Review: u/Spade940

Cycloid Review: Dylan Kowalski

Cycloid Review: Dylan Kowalski 2

Cycloid Review: Flippin Zhenqi

Zipper Review: Flipping Zhenqi
How do I maintain my Zippy?

For disassembly, tuning, and balance adjustment information, please see the Maintenance guide. All Zippy Balisongs ship with weights installed, but are easily adjustable for whichever balance profile you prefer.
What does the Balisong ship with?