BRS Replicant Spacers
Regular price
Sale price
$34.00 USD
Unit price
per
Sale
Sold out
These BRS Replicant spacers are made in-house from a rubbery, shatter-proof polyurethane. They extend and protect the handles of the Rep, add jimping, and enable adjustable balance with up to 6x removable tungsten weights per spacer. Because every Rep has it's own personality, the adjustable weights allow you to adapt your Rep to suit your specific balance preference, no matter what build you are running.

The spacers are offered as either handle extensions or full-length flush spacers.

Assembly Instructions: Remove the stock sexbolts and spacers. Insert the Zippy spacers. For extension spacers, apply inward pressure so that the extension is pressed into the handles to ensure the sexbolt holes line up. Insert the sexbolts while continuing to apply inward pressure. Then, tighten the body screws till there is a medium resistance. Do not overtighten the body screws— this can overcompress the spacer and narrow the channel, which could affect tolerances. Use the stock spacer as a guide to the thickness by wedging it in the channel below the Zippy spacer and tightening the handles until they press upon the stock spacer; then remove the stock spacer from the channel. If you have calipers you can measure the width at the pivot and tighten/loosen the spacer screws till the channel width at the spacer matches the channel width at the pivots (~4.05 mm). 

-Optionally extends handle length from 5.5 in to 5.77 in (regular extensions), or to 5.65 in (half-length extensions for G10 and JT scales). The half-length extensions with 2x tungsten weights per spacer is my personal favorite setup.

-Extensions protect your handles: These spacers are made from a shatter-proof polyurethane which will absorb the shock of drops, so your rep doesn't have to.

-Flush spacers and stock G10 extensions have positive jimping for extra grip on ladders.

-Adjustable balance: Each spacer houses up to 6x removable Tungsten weights which enables you to find the perfect balance to suit your preference. The weights can be popped out with a thin, rigid metal object using the 2 slits at the base of the handle extensions, and can be popped in easily with just a pen. The full-length flush spacers and half-length extensions each house up to 3x removable tungsten weights--the flush spacers have similar balance to the stock spacers with all 3x weights installed.

-Each extension spacer for G10 scales weighs 0.094 oz empty, and up to 0.222 oz with all 6x weights installed. The half-length extensions for G10 and JT scales weigh 0.071 oz empty, or up to 0.134 oz with all 3x weights installed. The other extension spacers weighs 0.08 oz empty, or up to 0.208 oz with all 6x tungsten weights installed. The full-length flush spacers each weigh 0.04 oz empty, or 0.106 oz with 3x weights (similar balance to stock spacers). For comparison, a stock rep spacer weighs 0.11 oz. 

 -The handle extensions were designed to fit flush with:

Standard G10 Stock Scales (v2 Extensions and Half-length extensions with jimping)

Hybrid Scales

JT Designed Replicant Scales (v2 Extensions and Half-length extensions with Jimping)
The curvature of the extensions may not line up aesthetically perfectly with the rounding/thickness other scales.

Share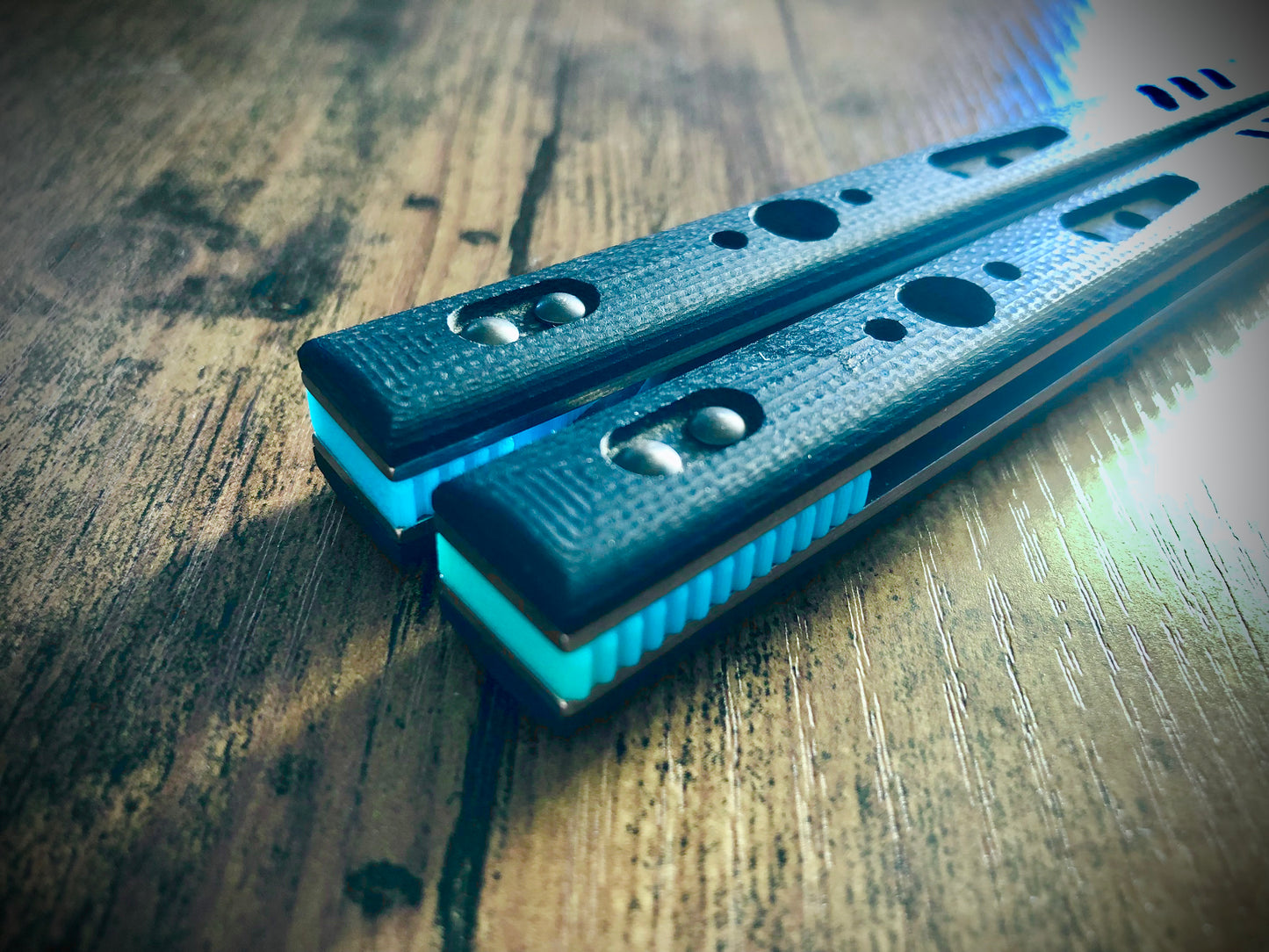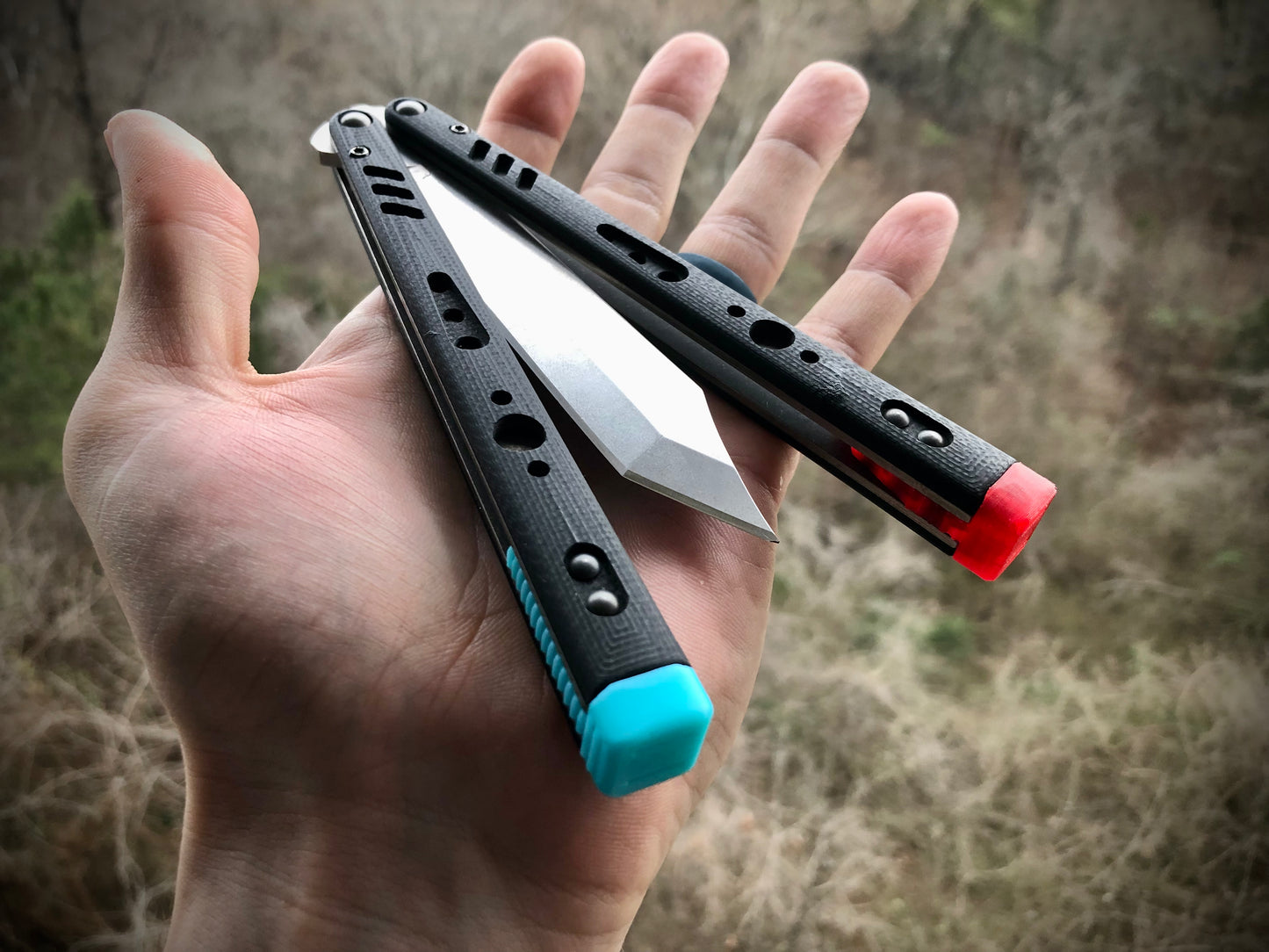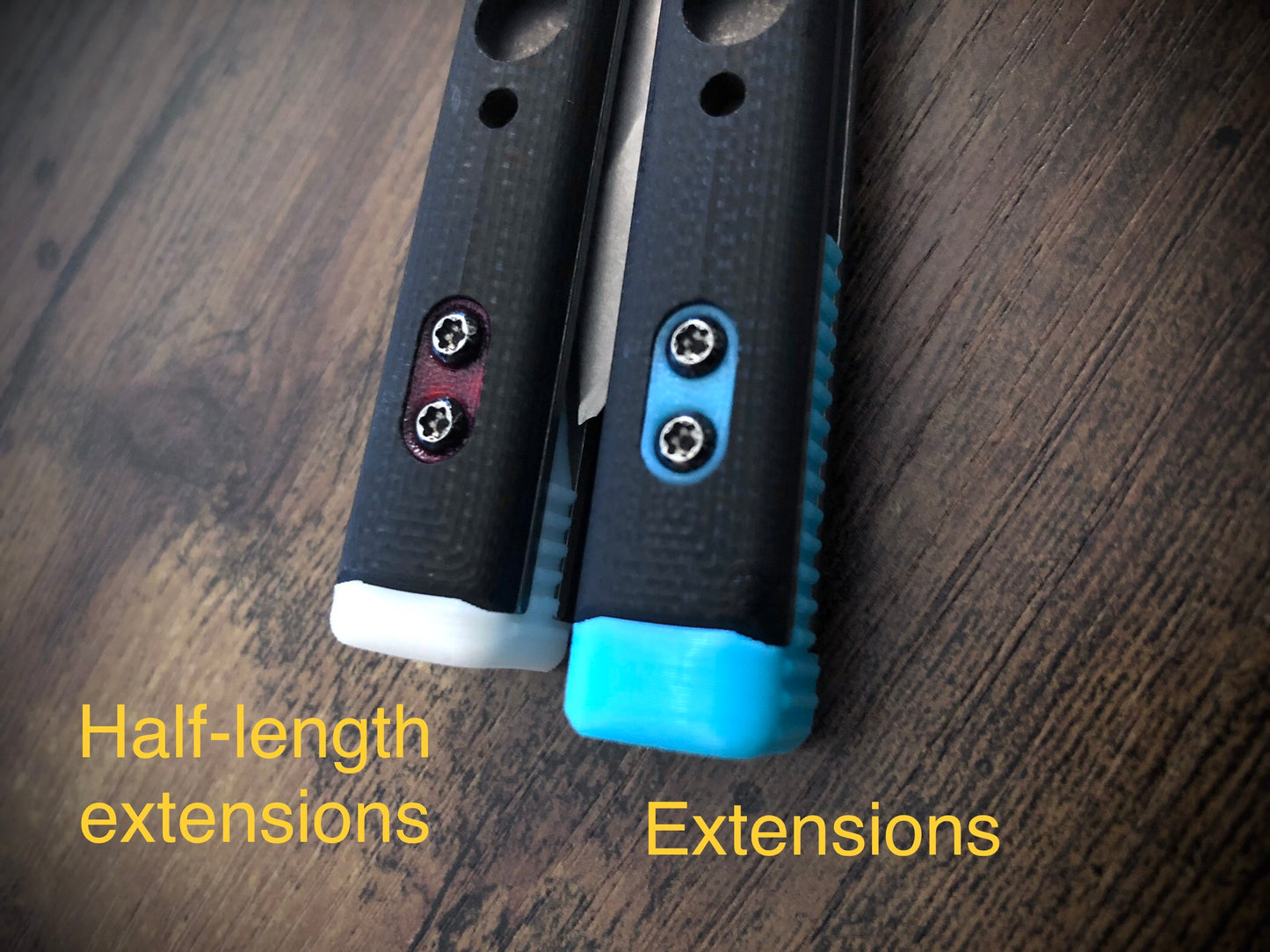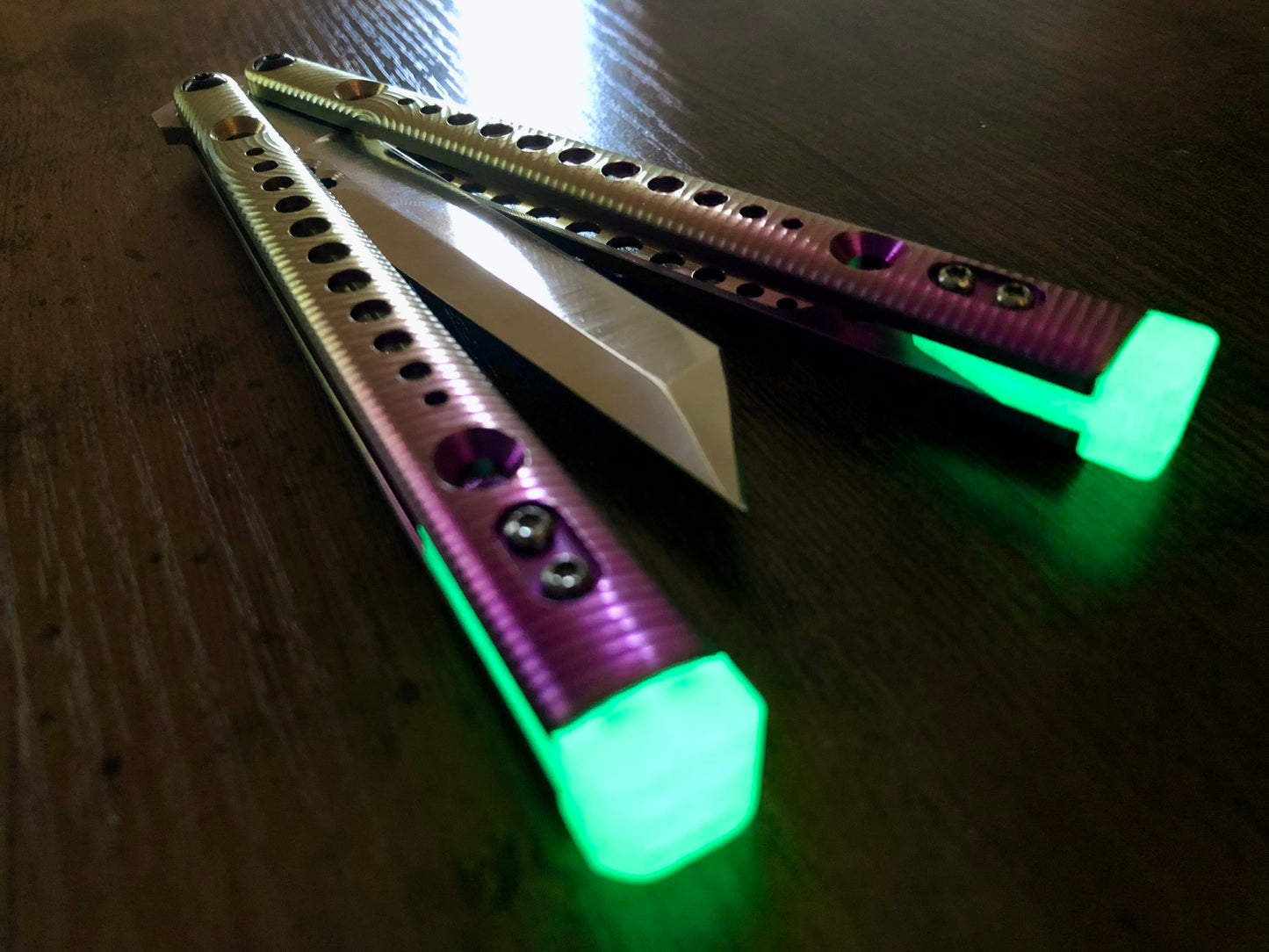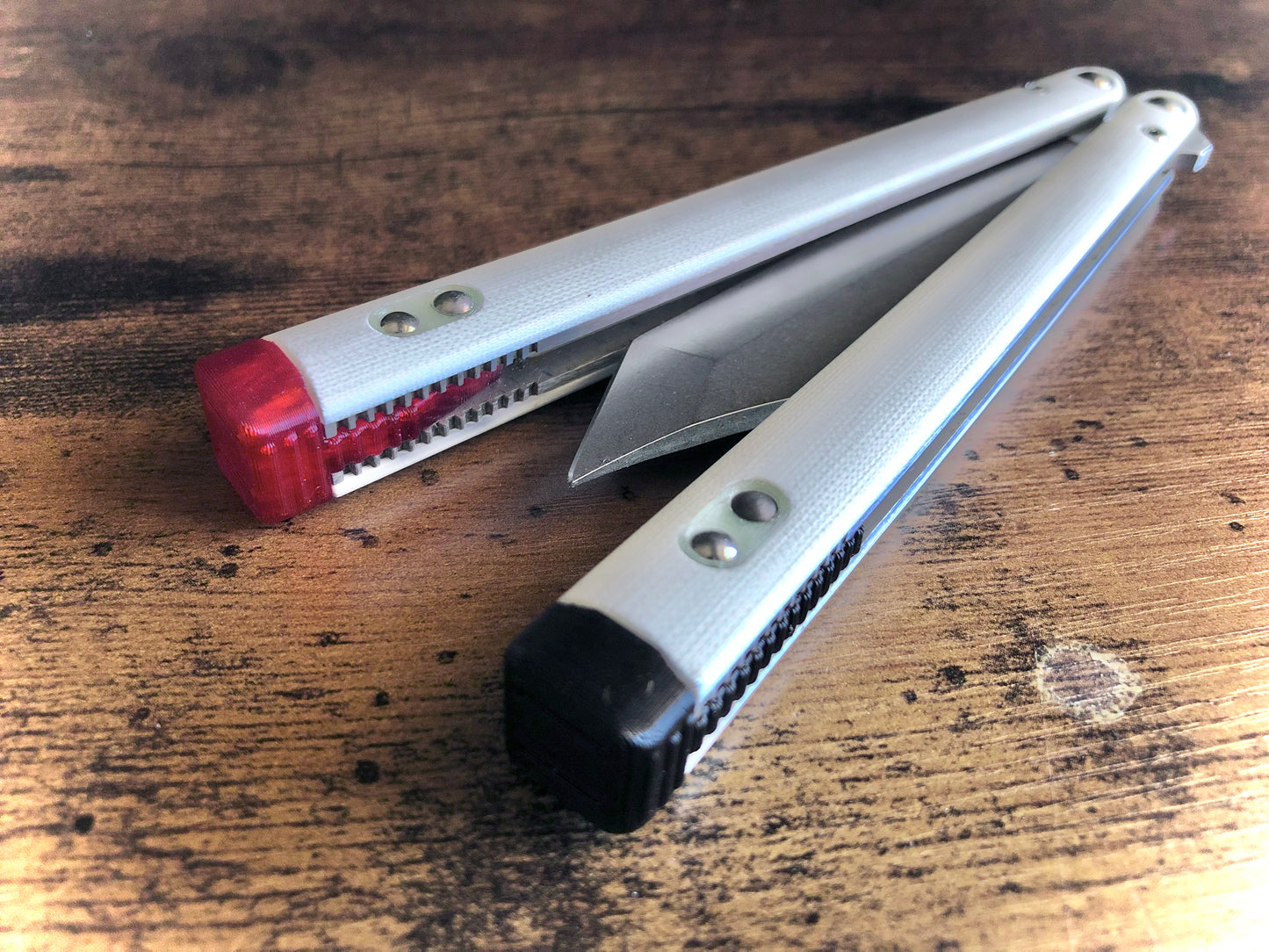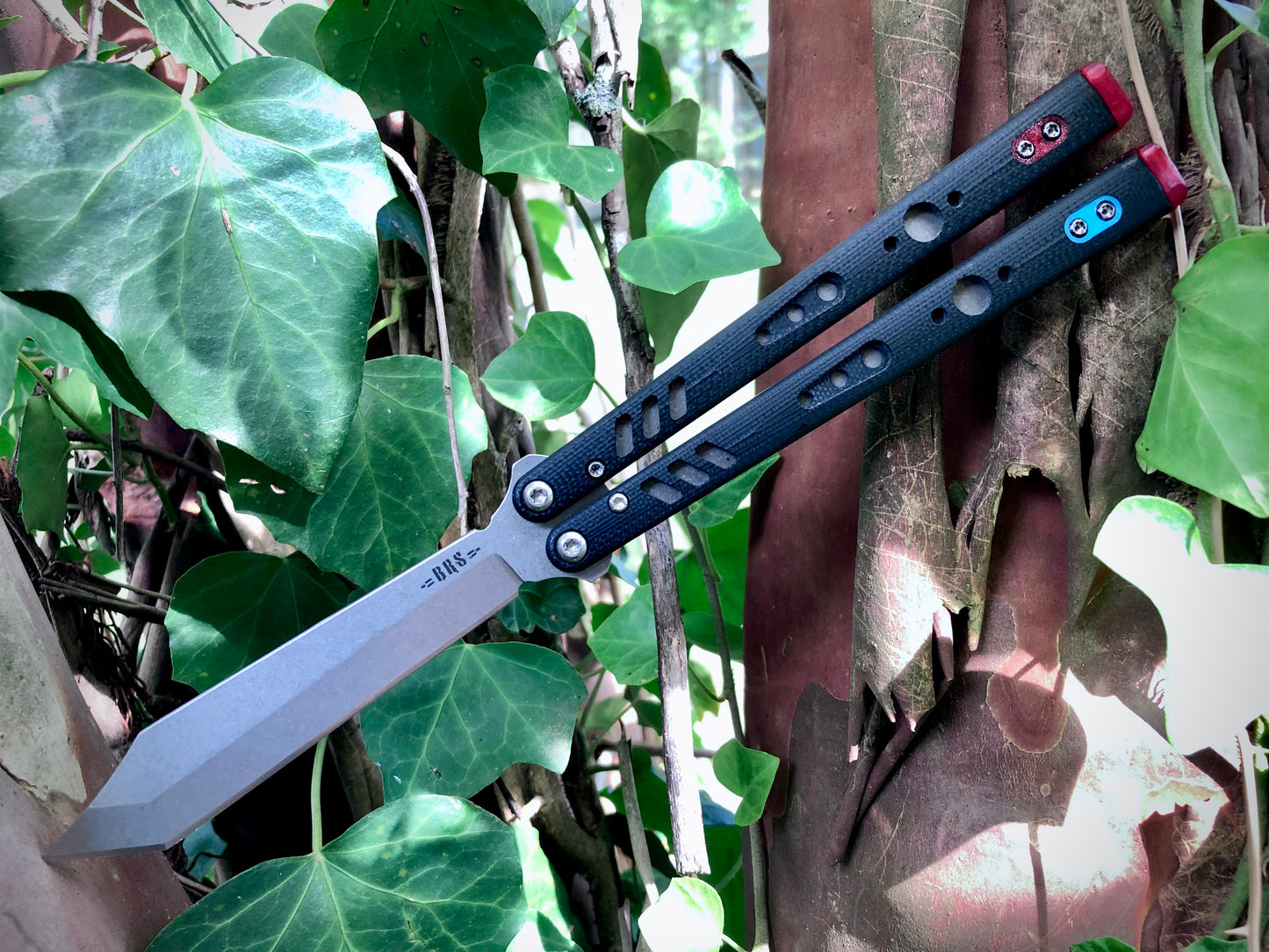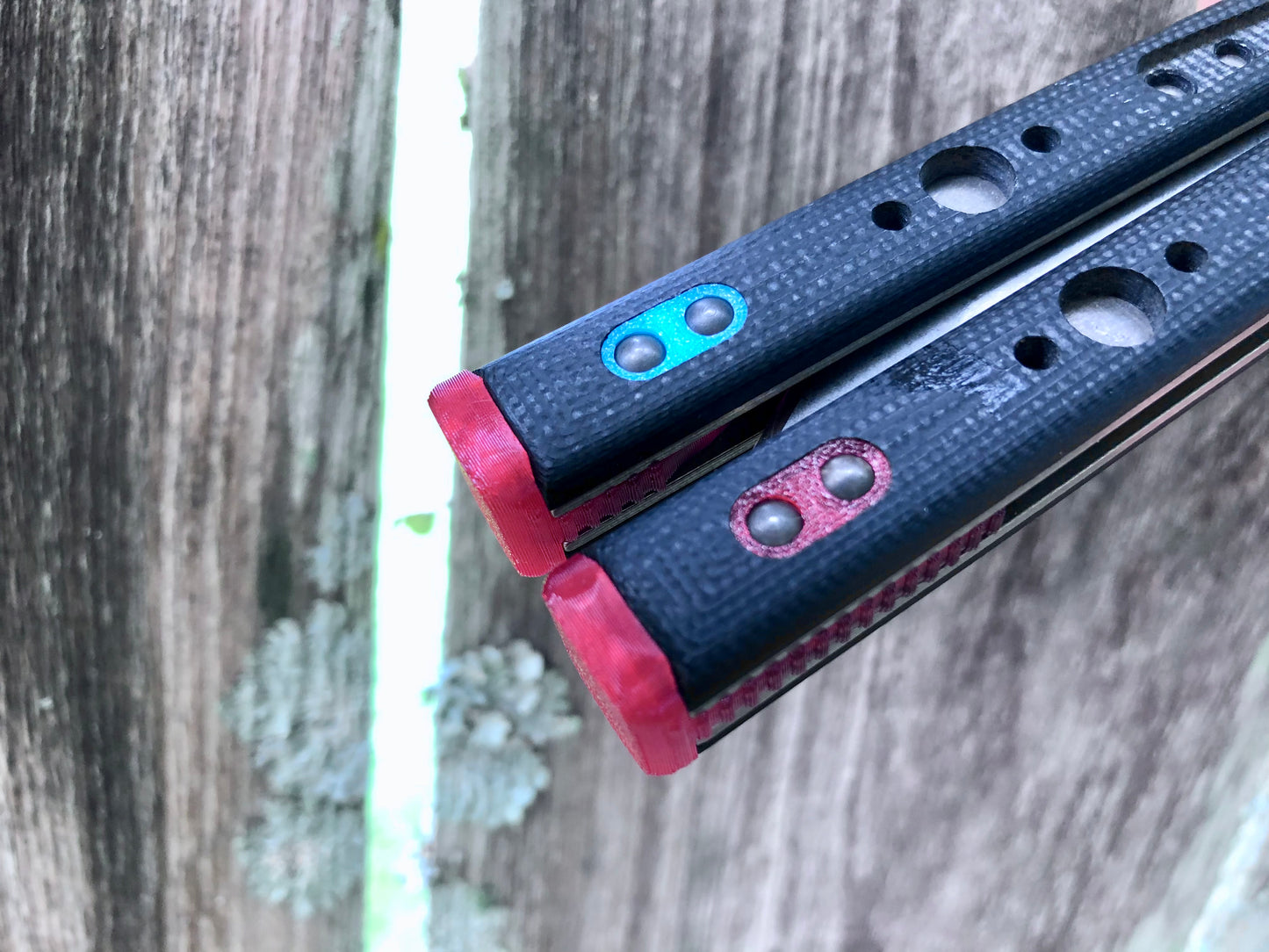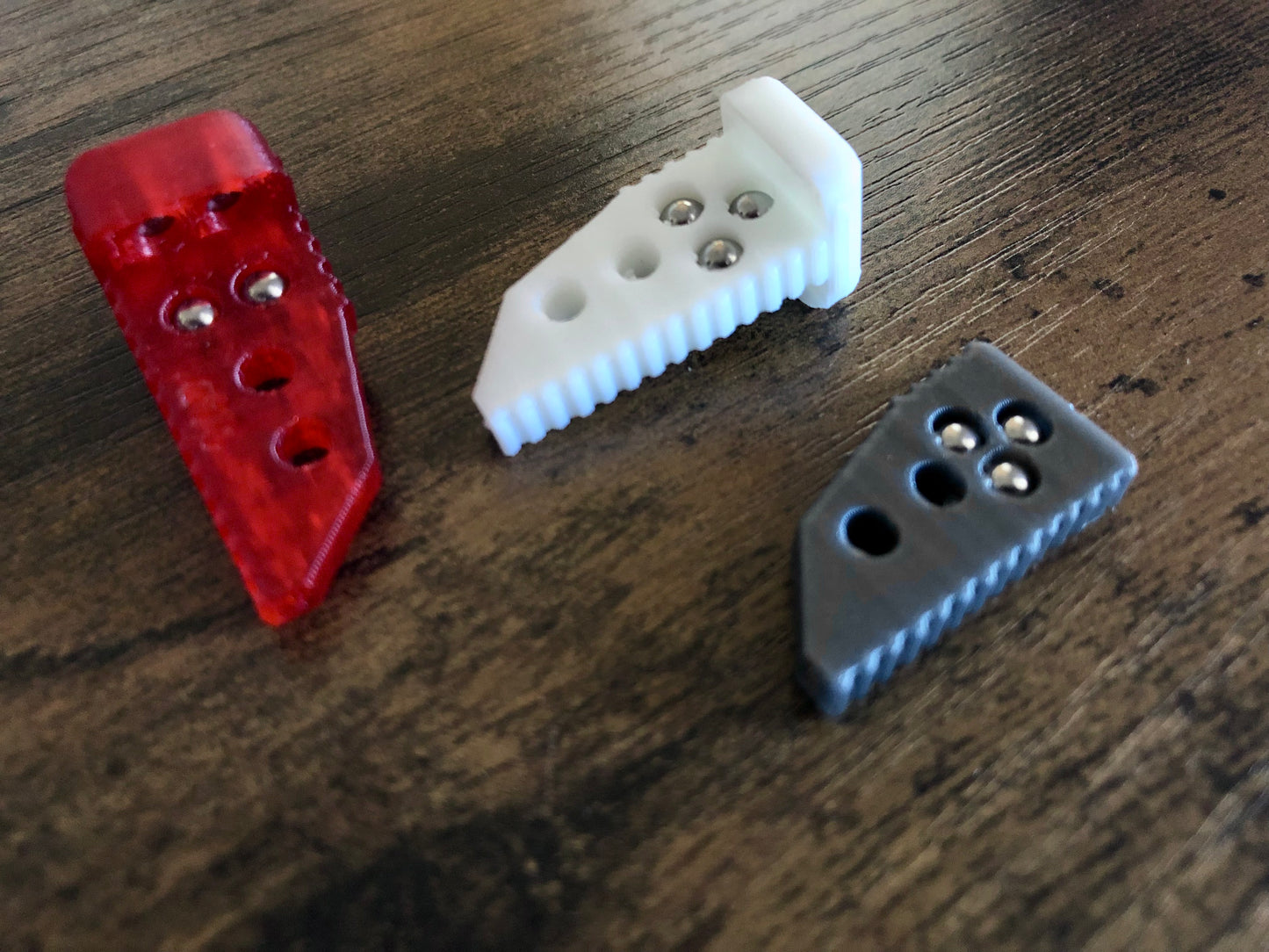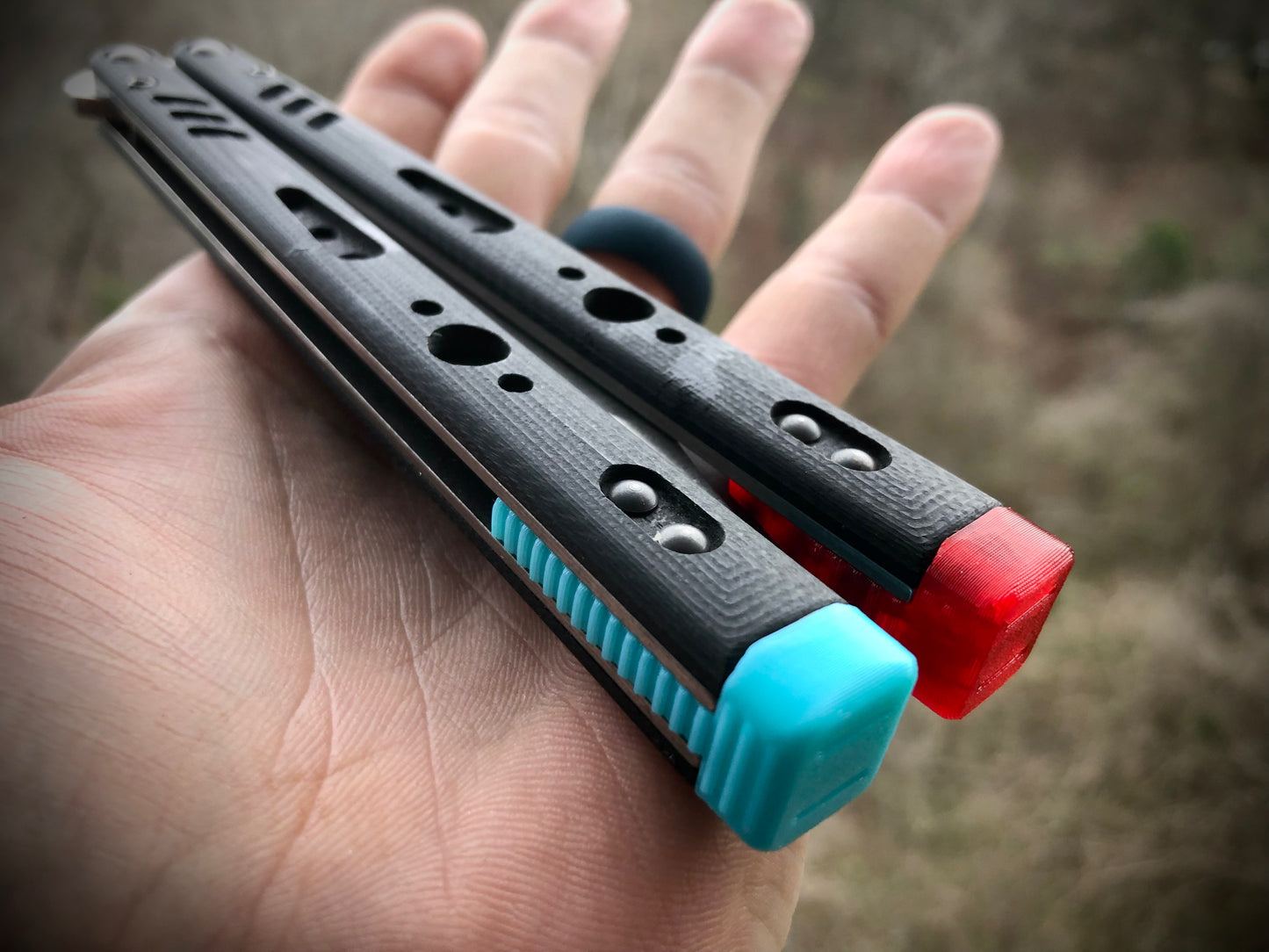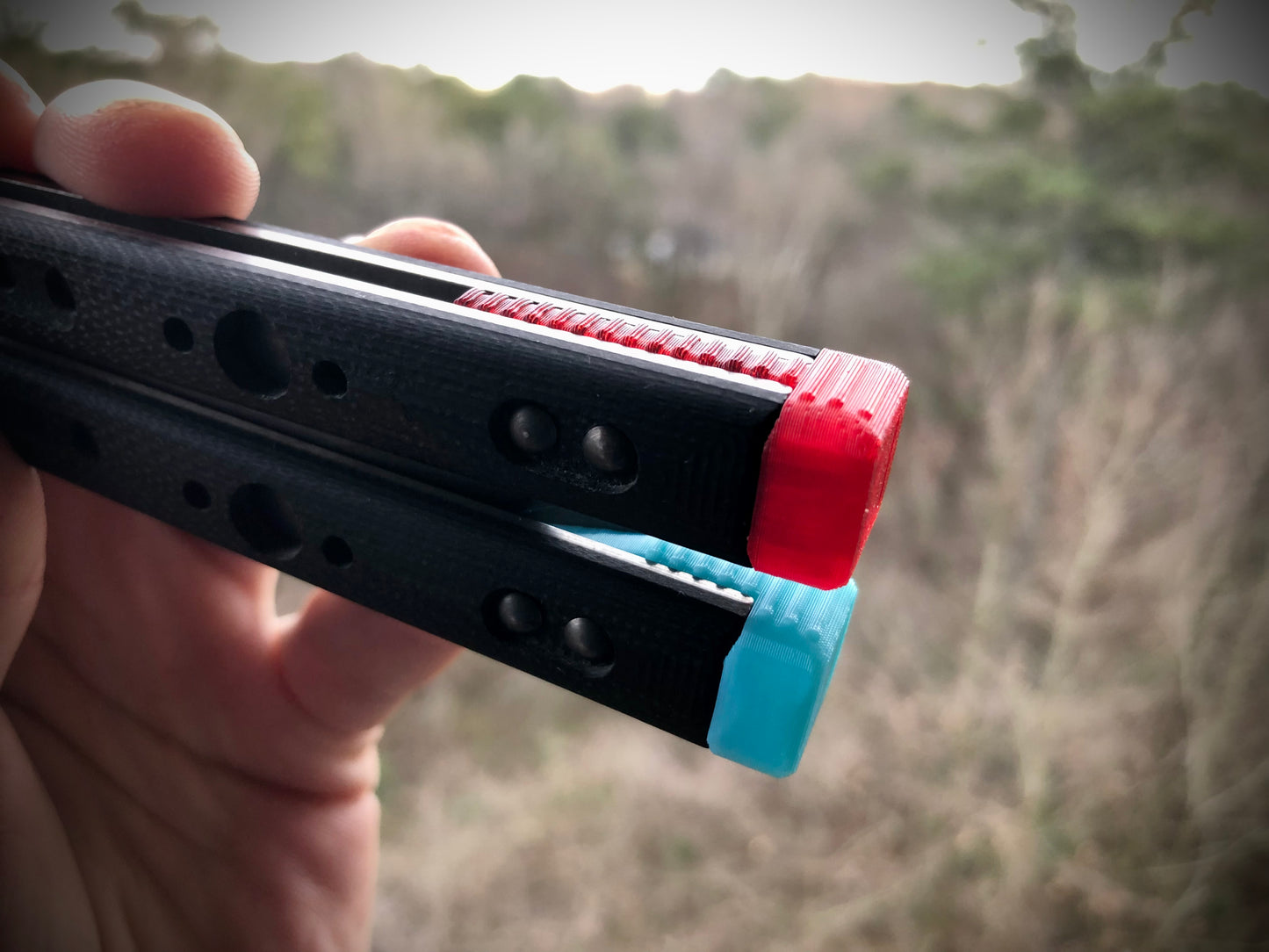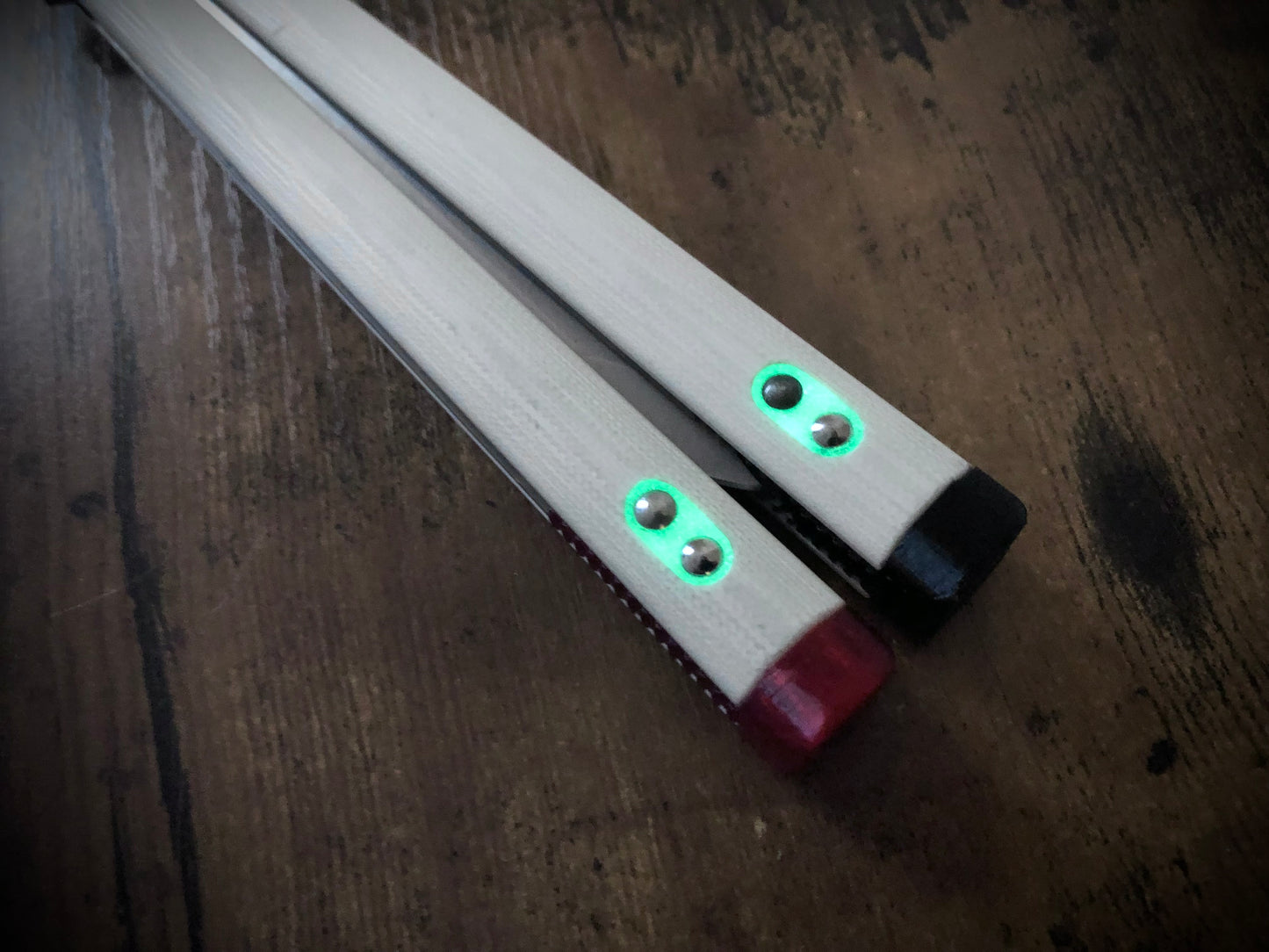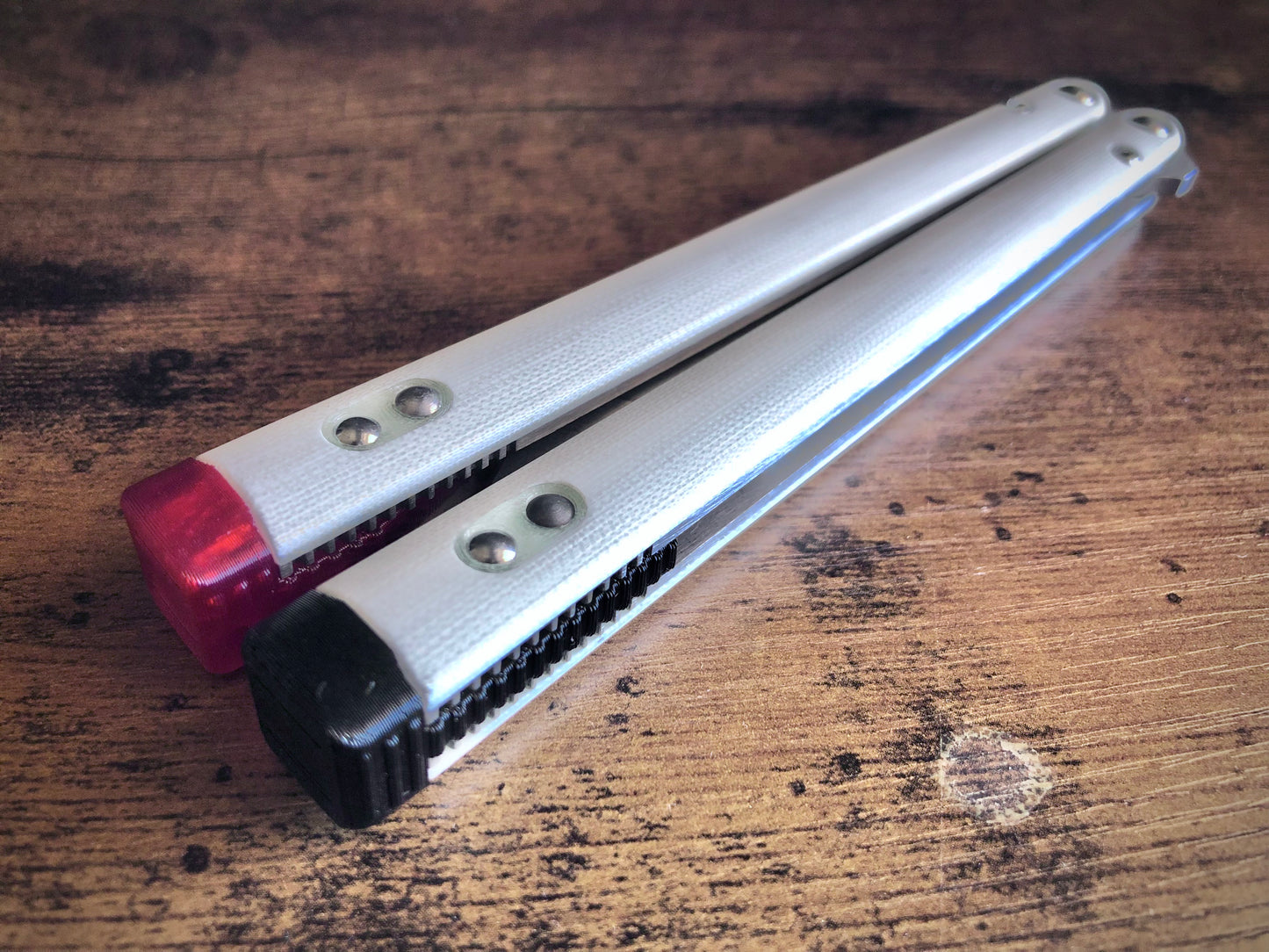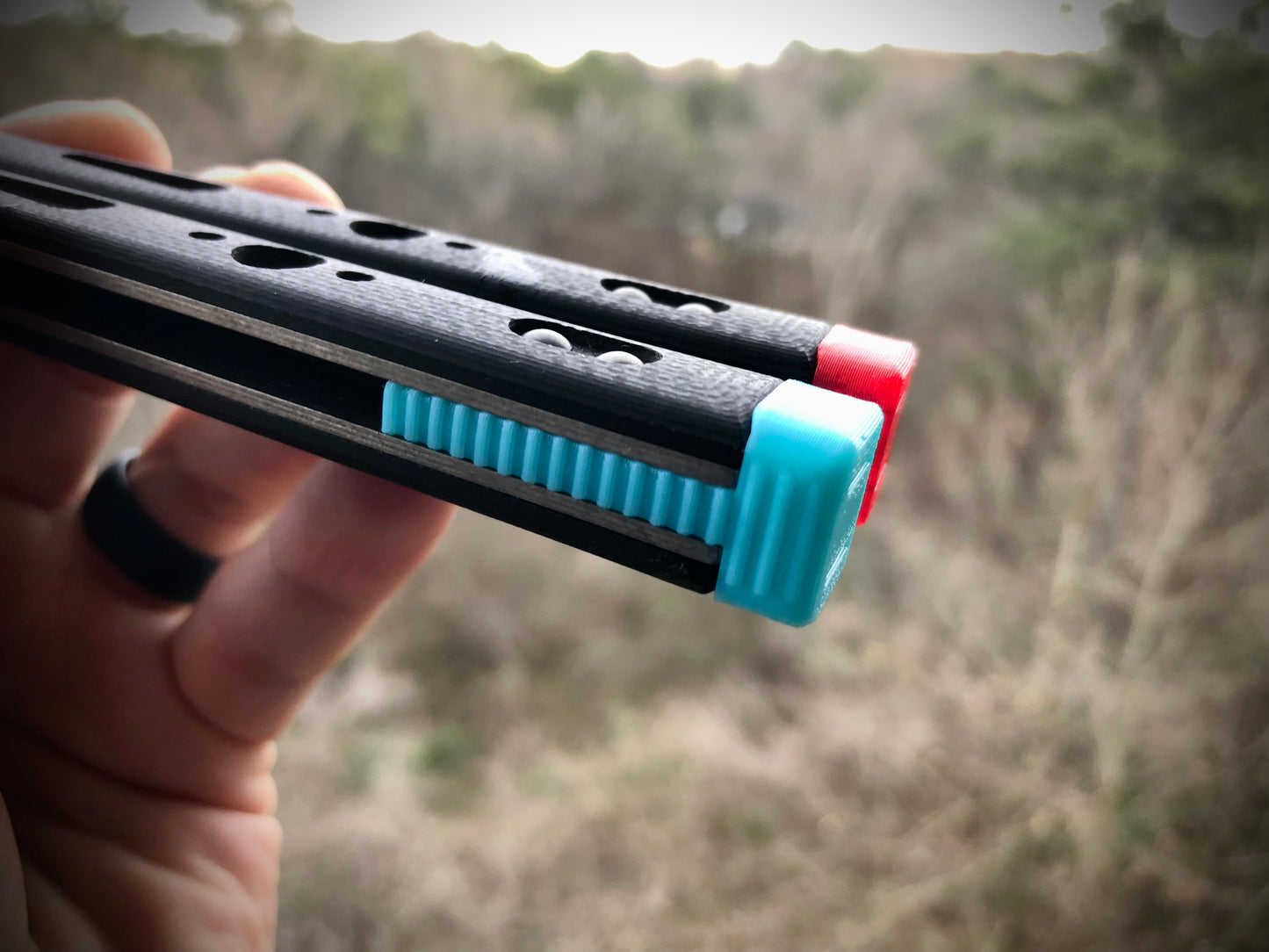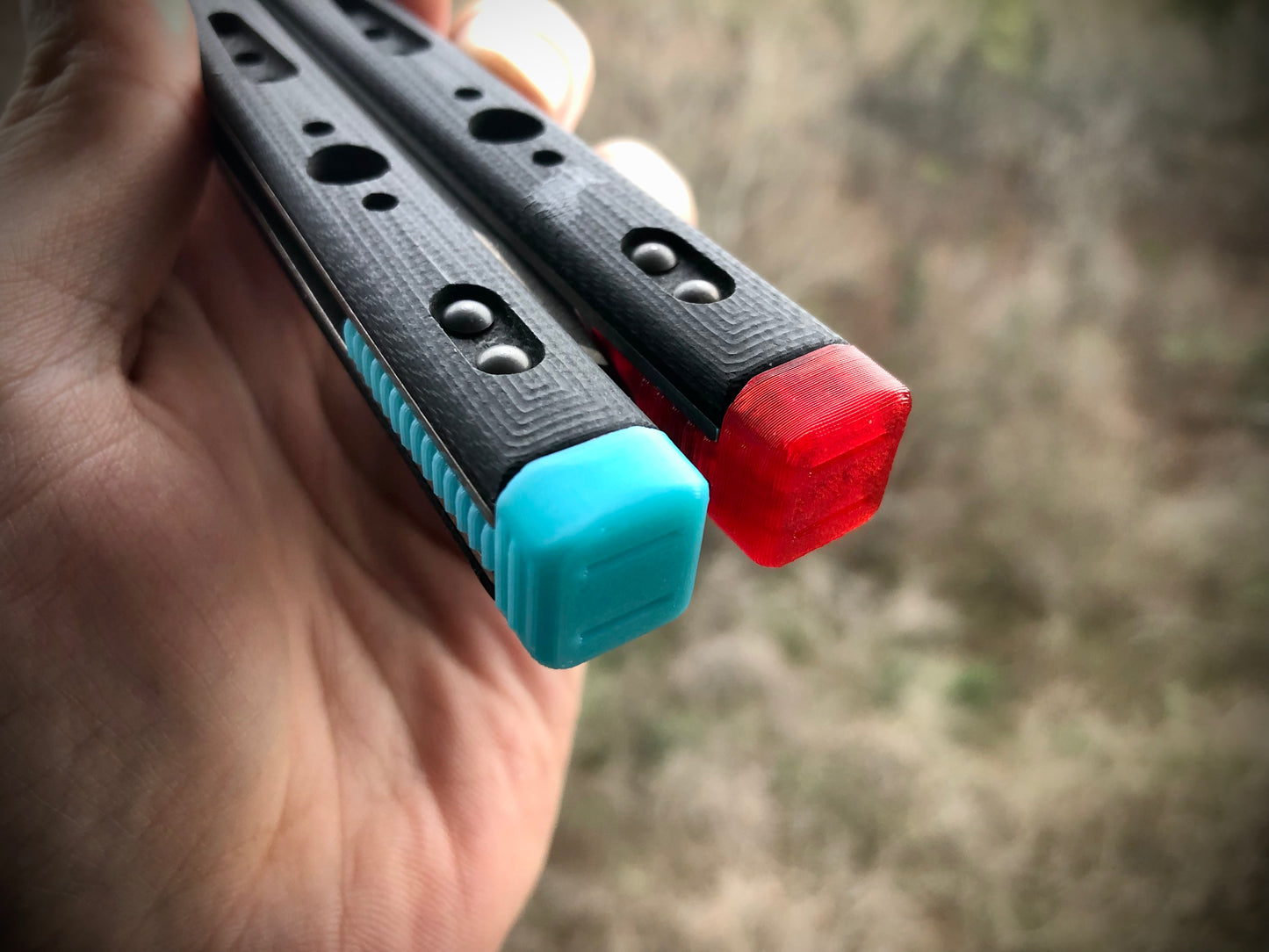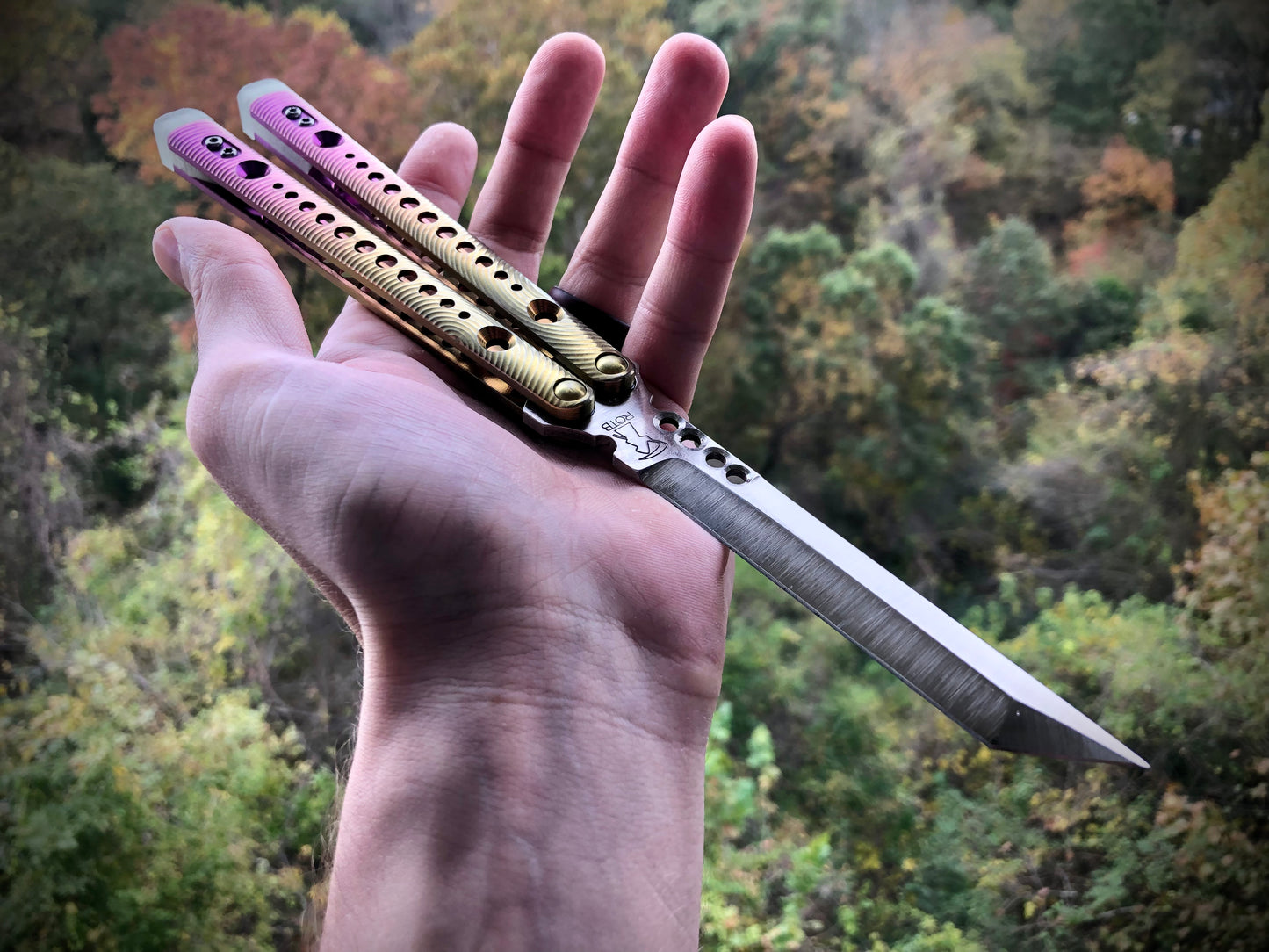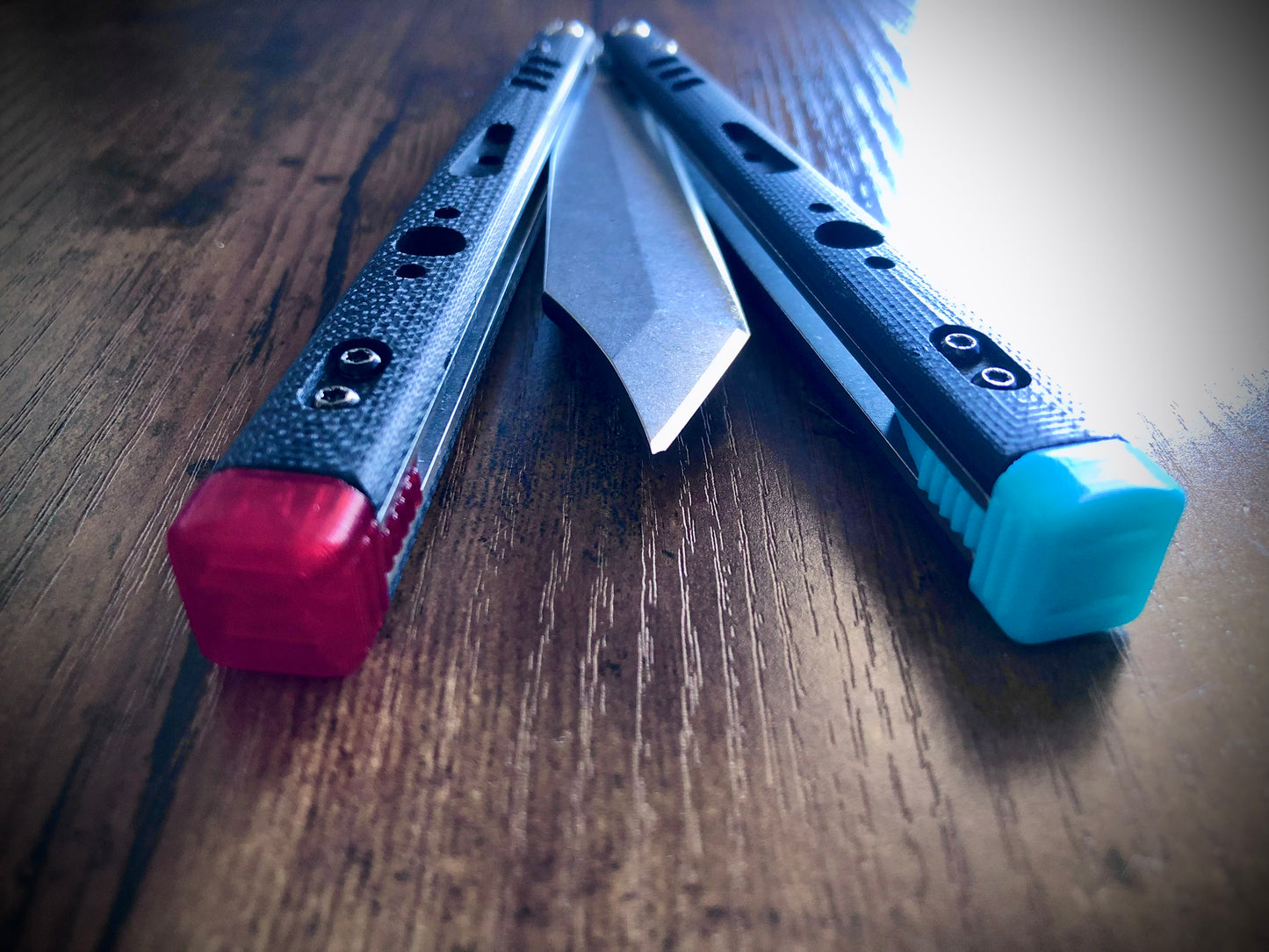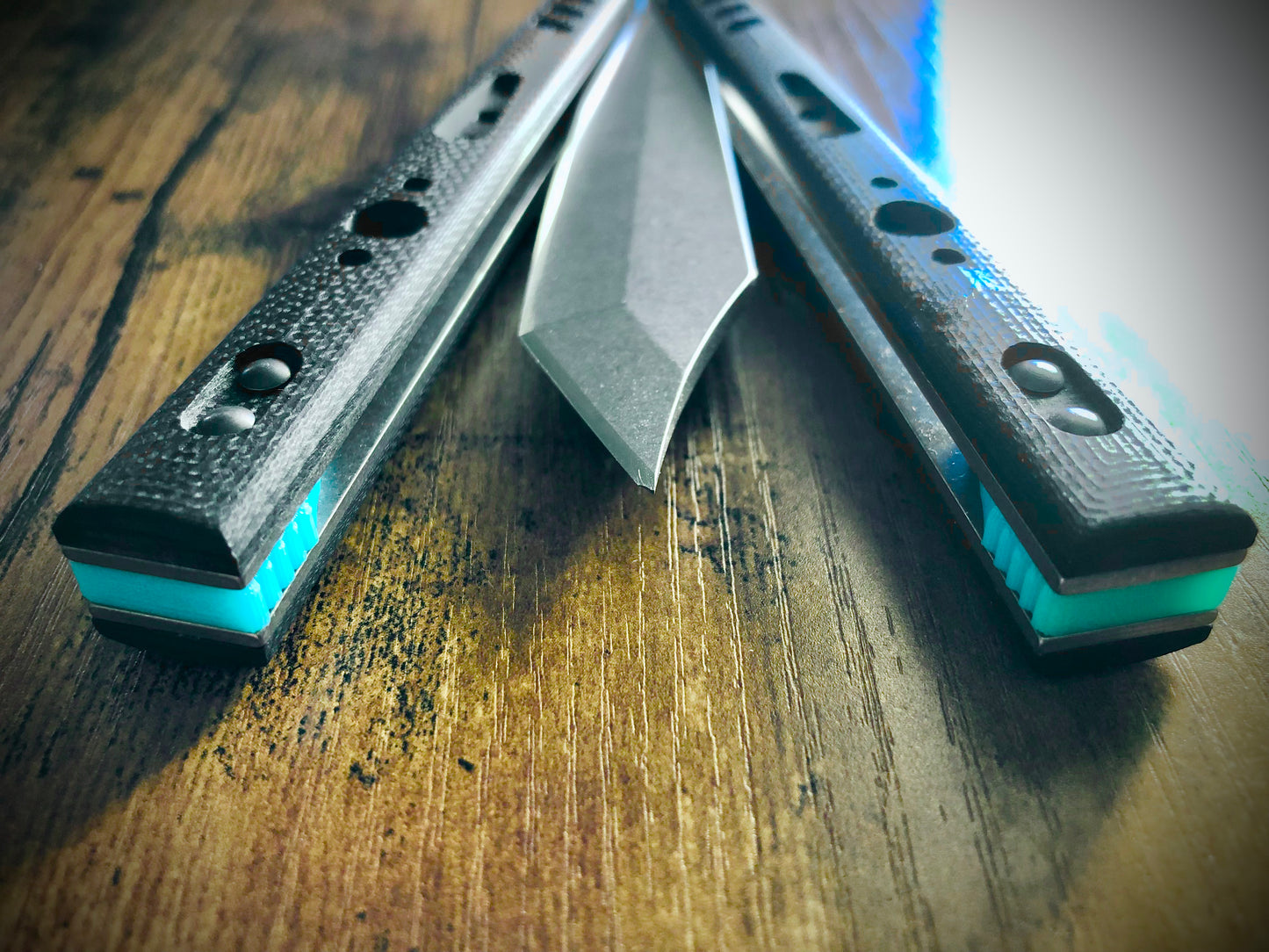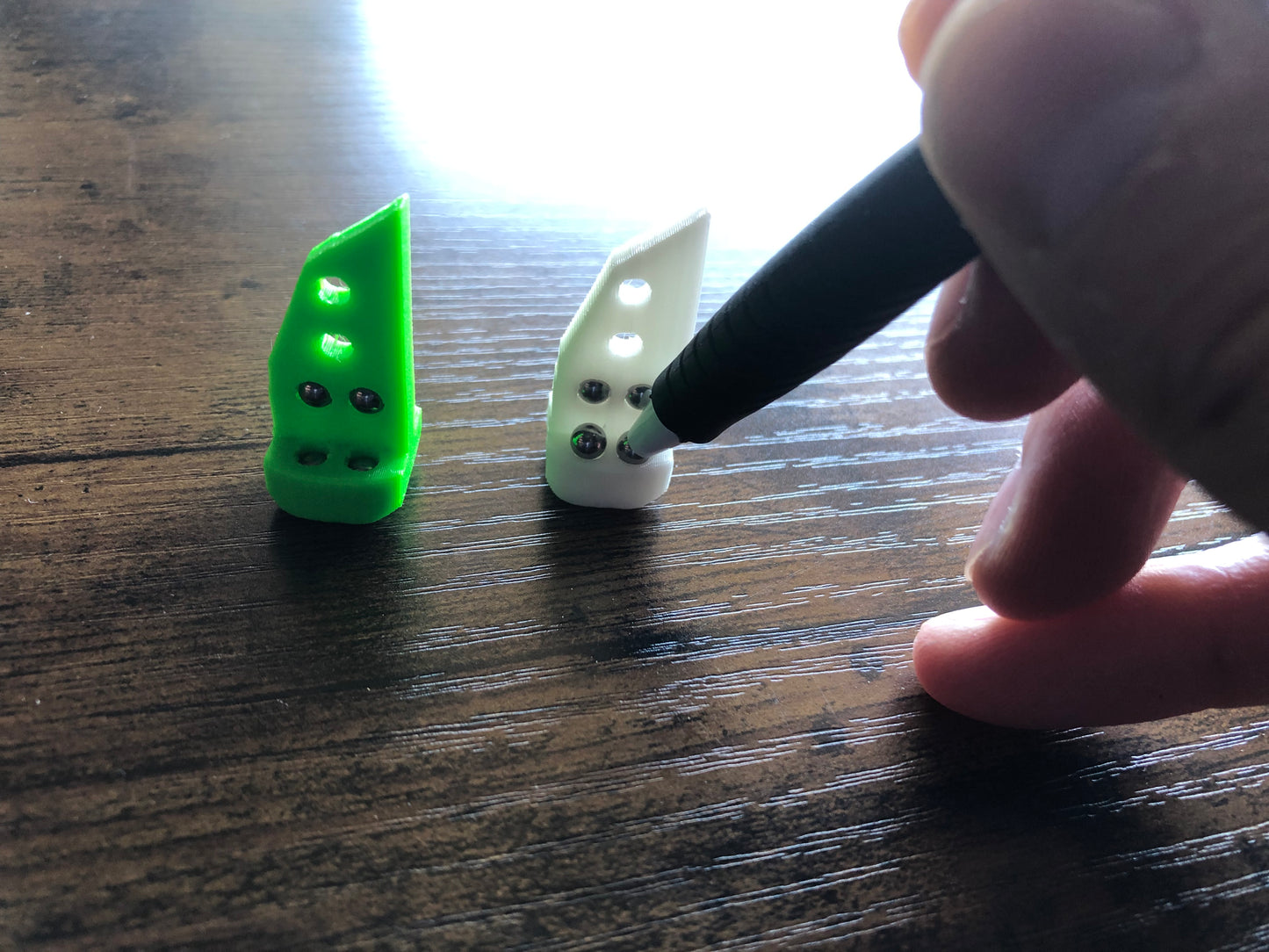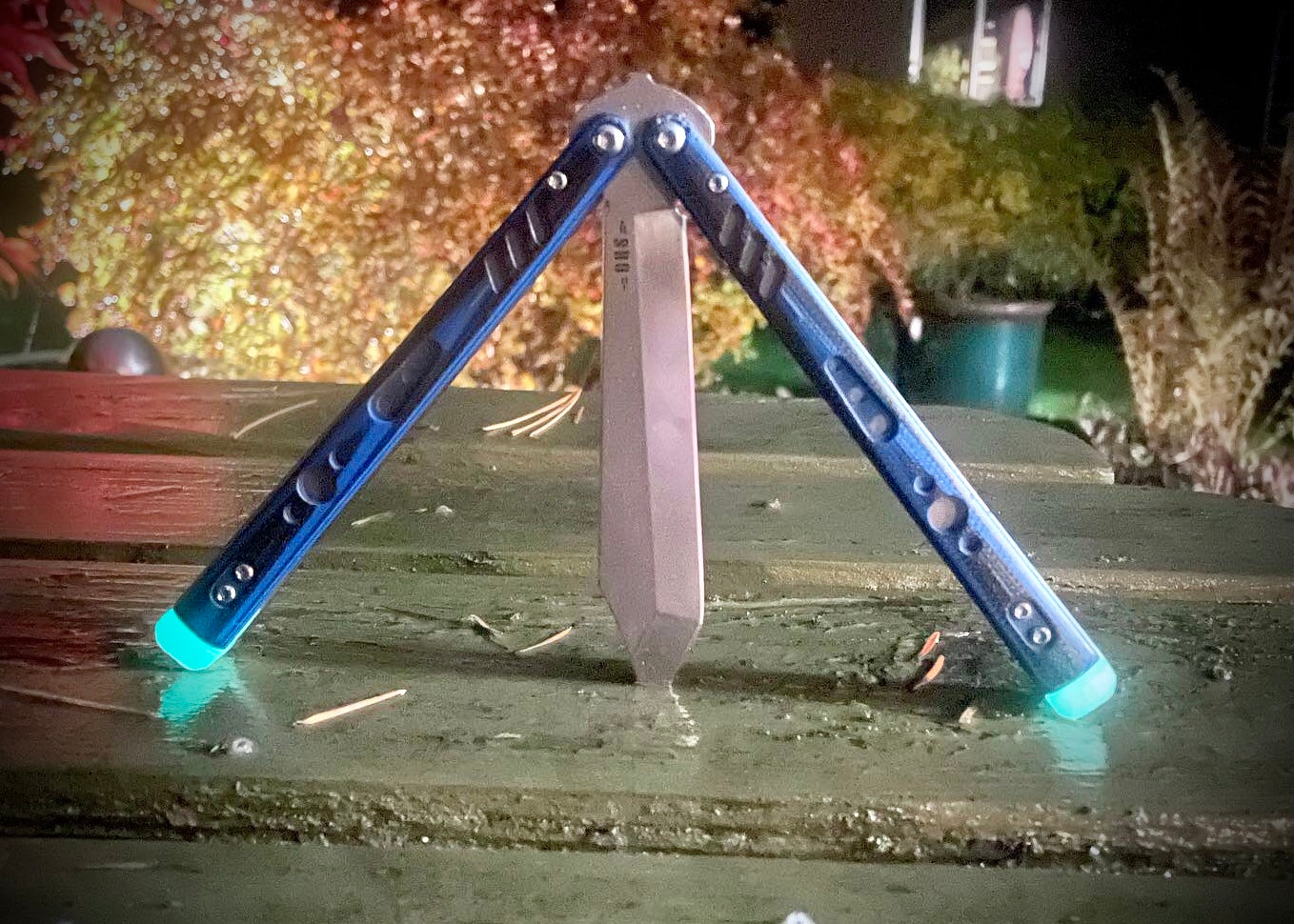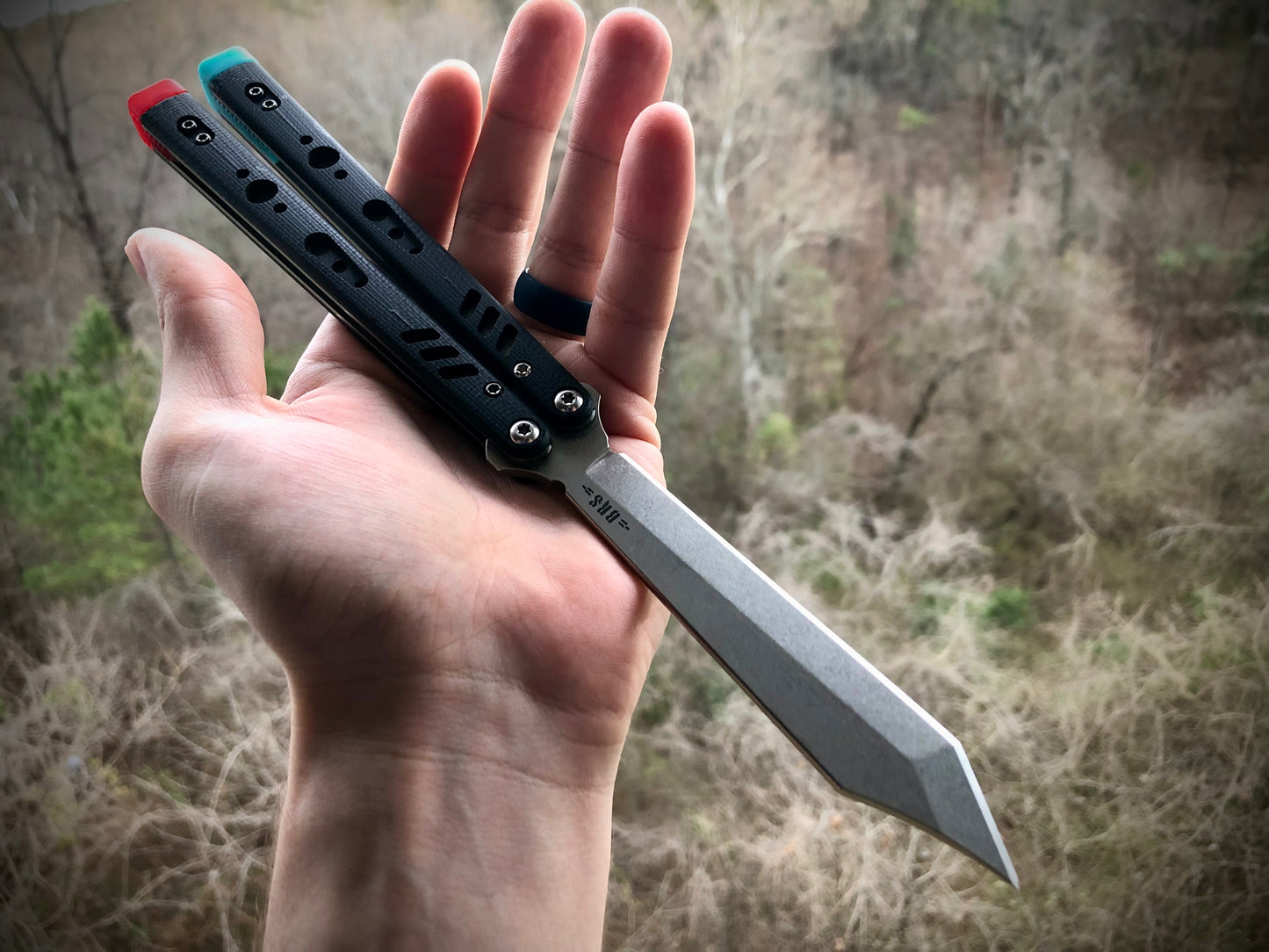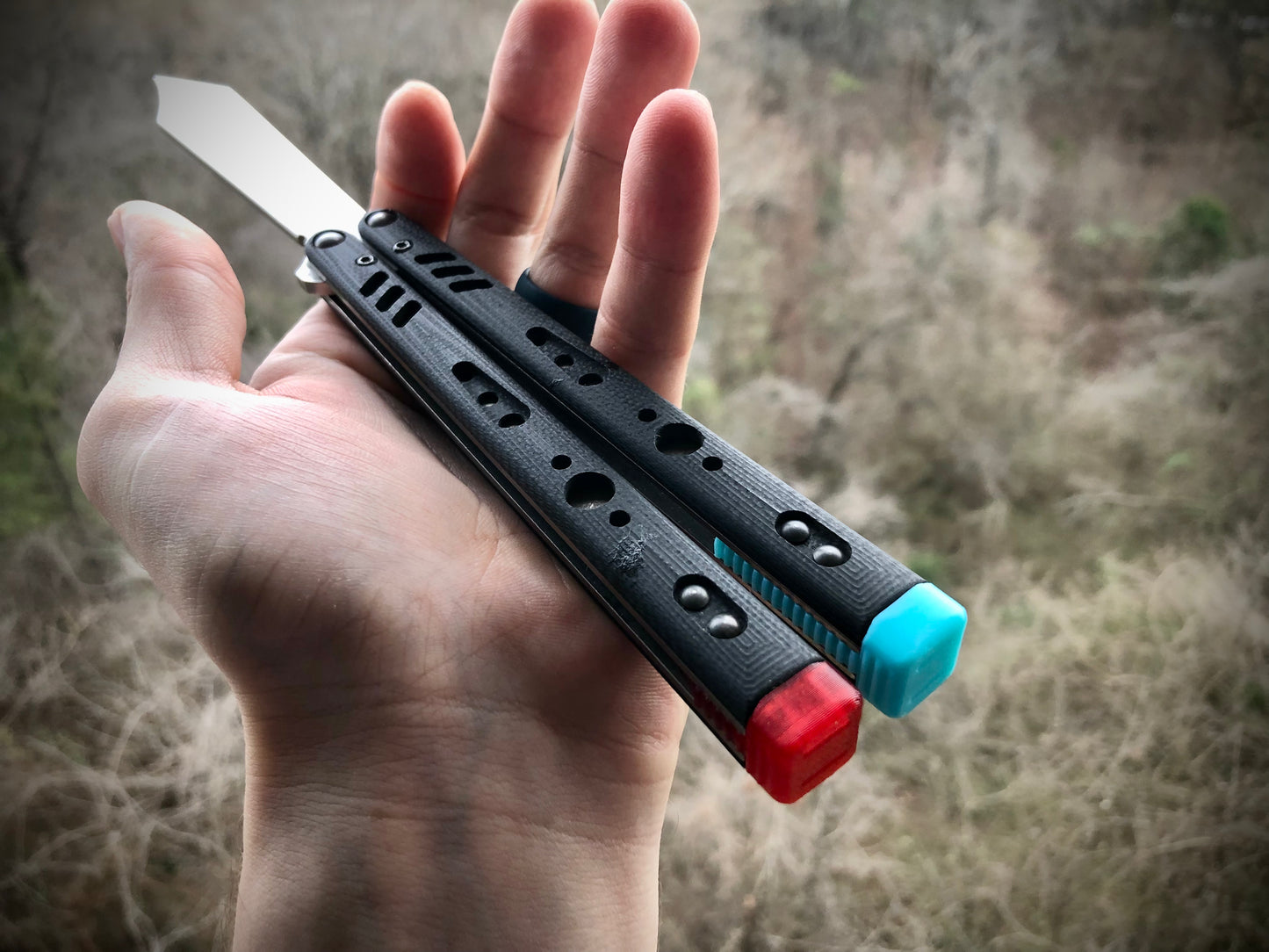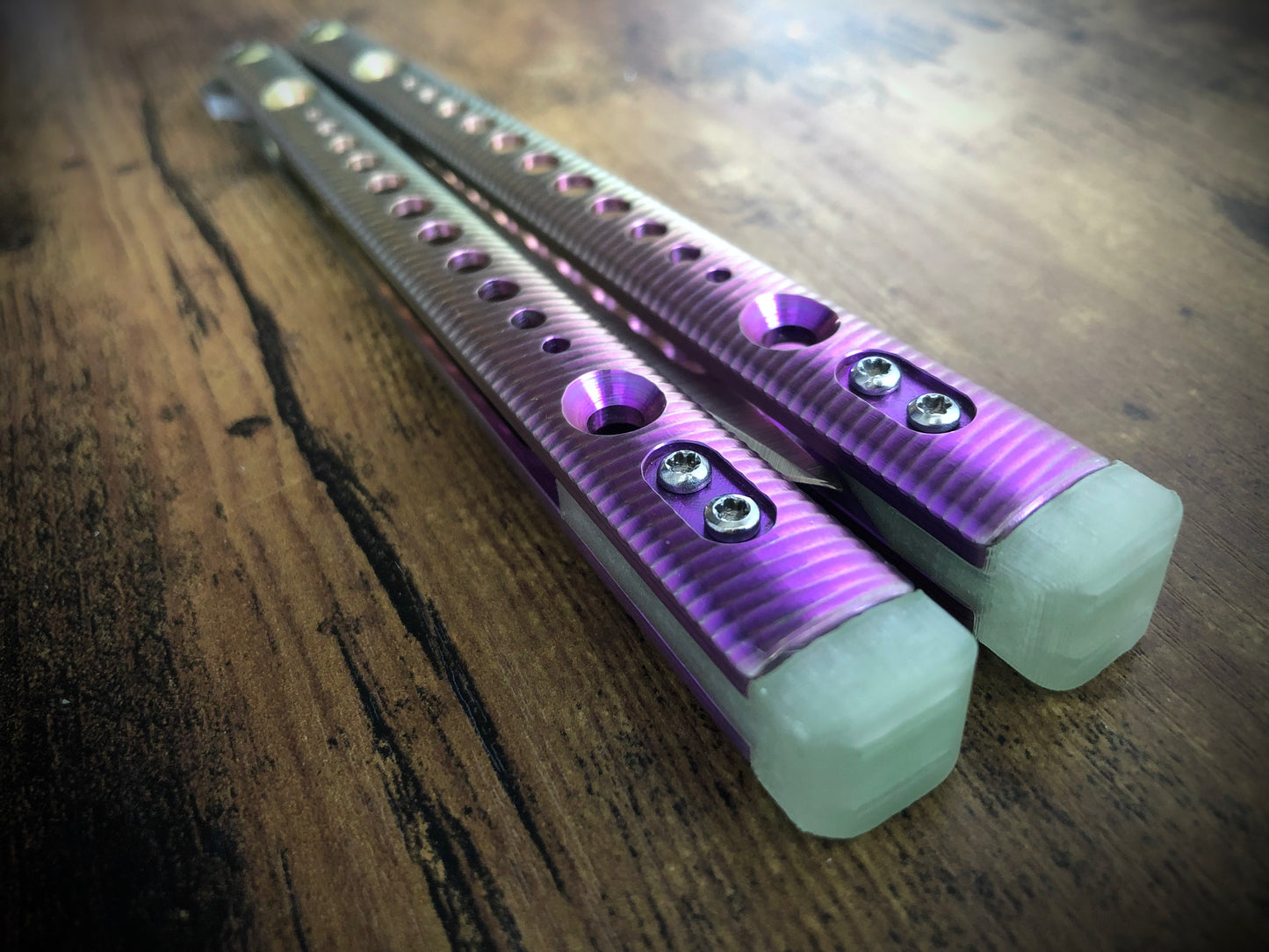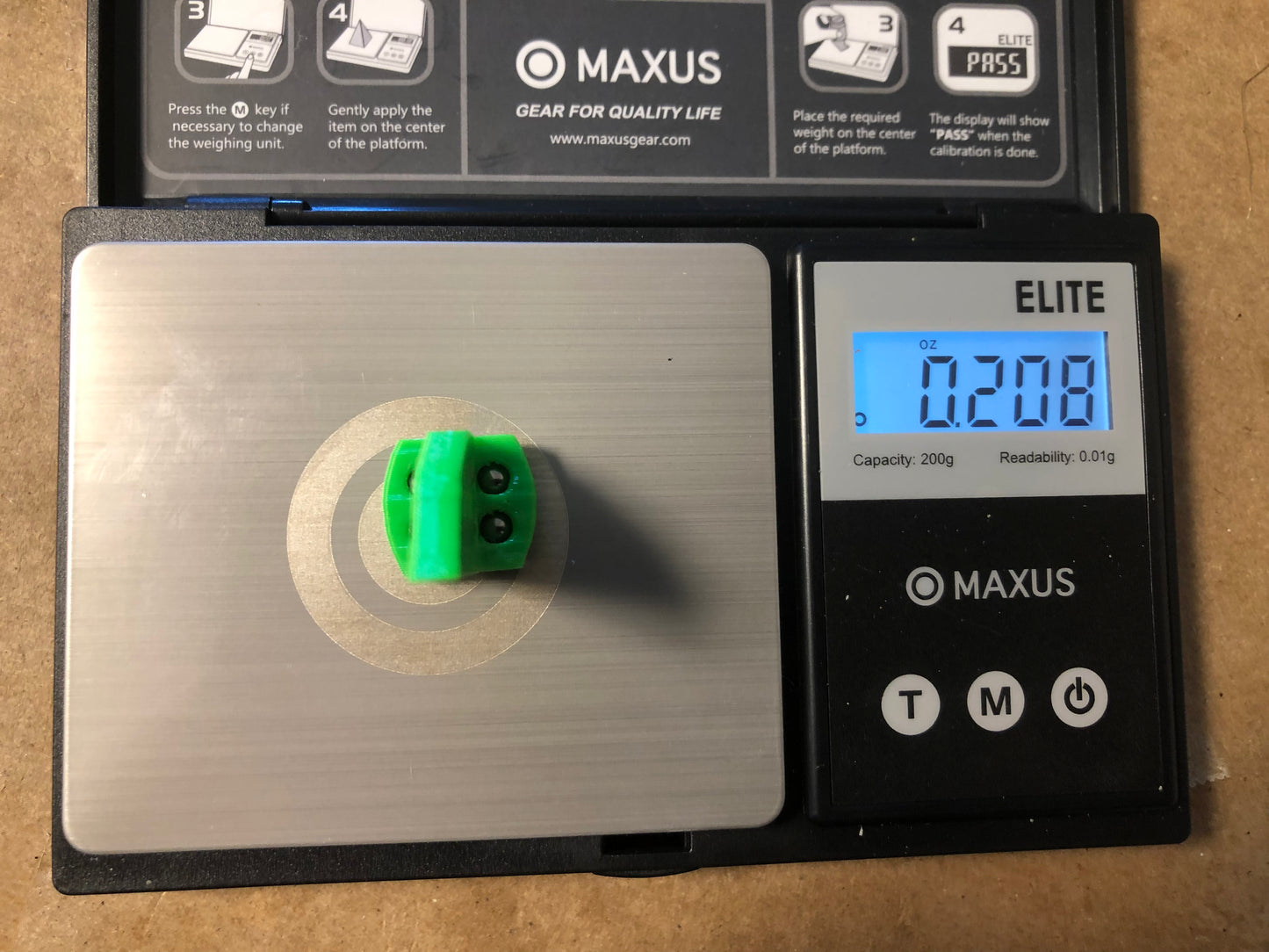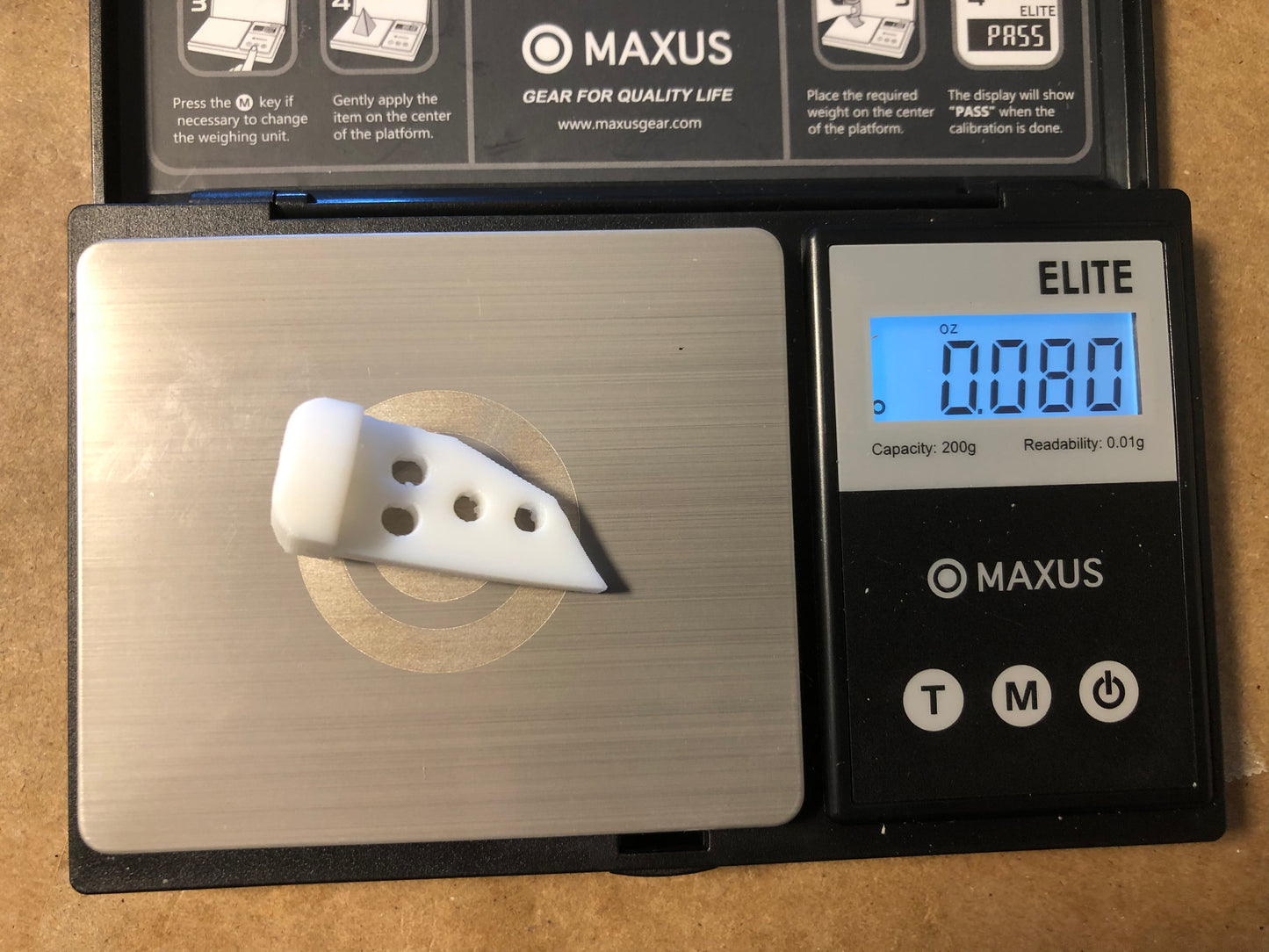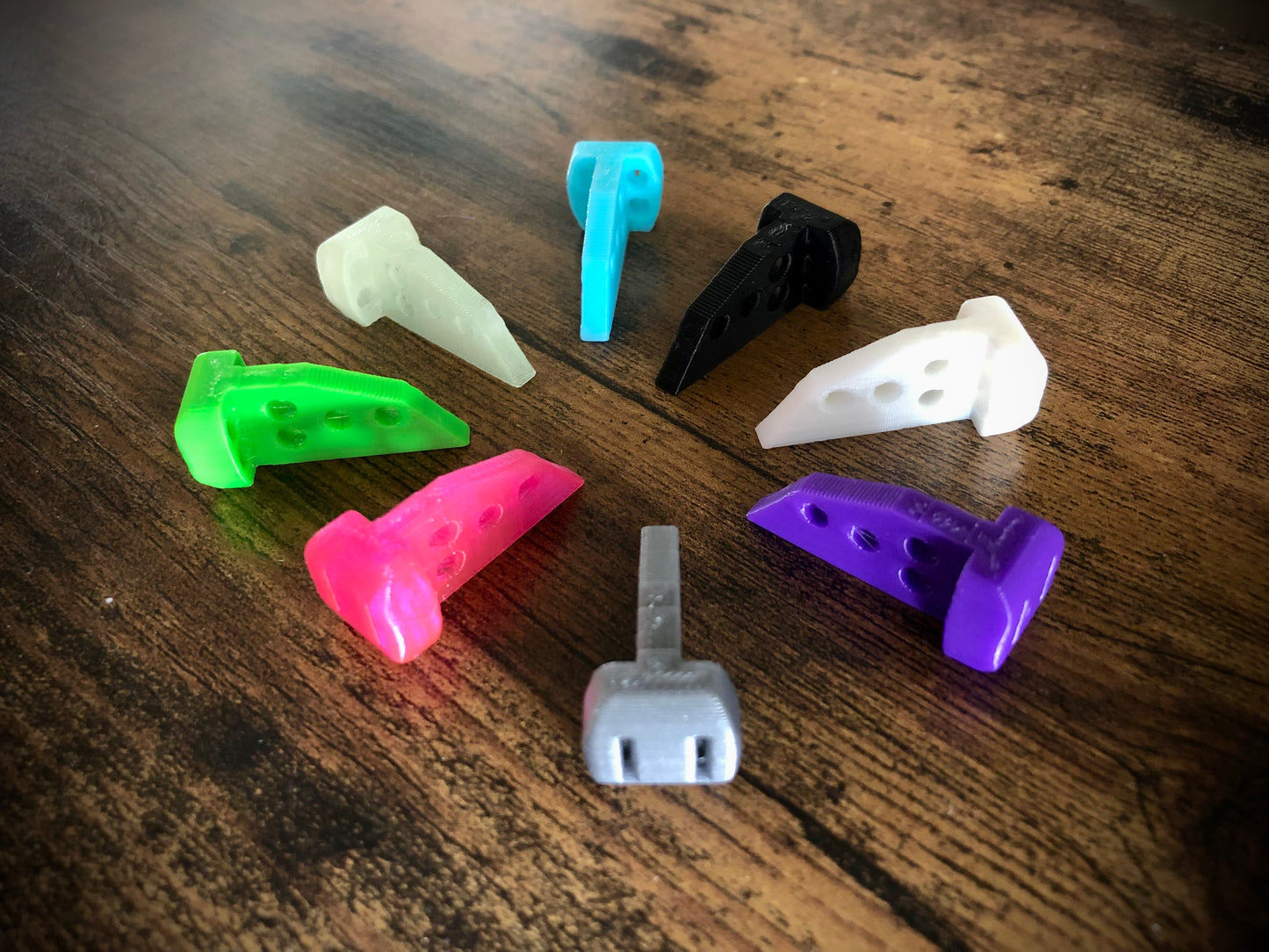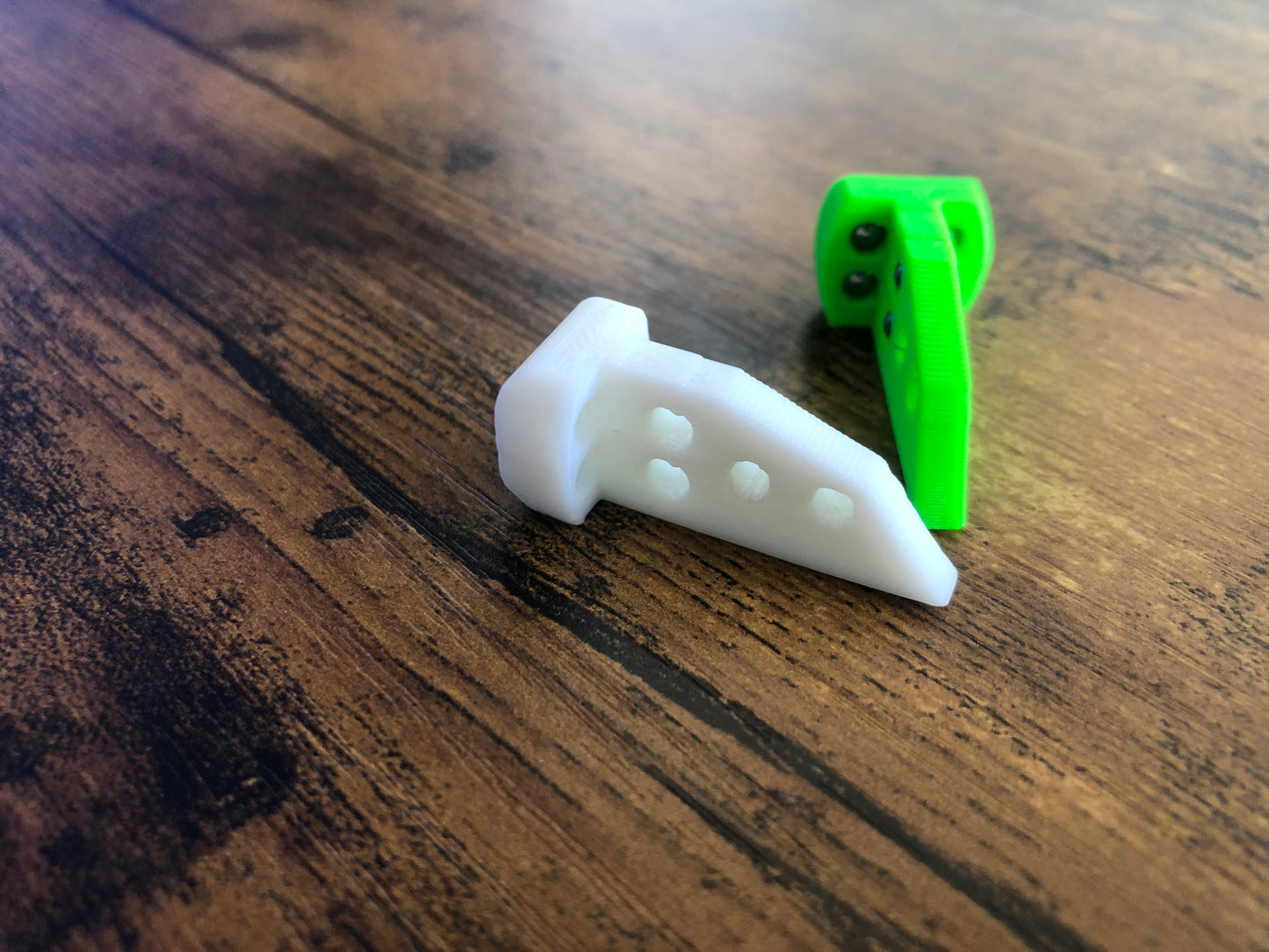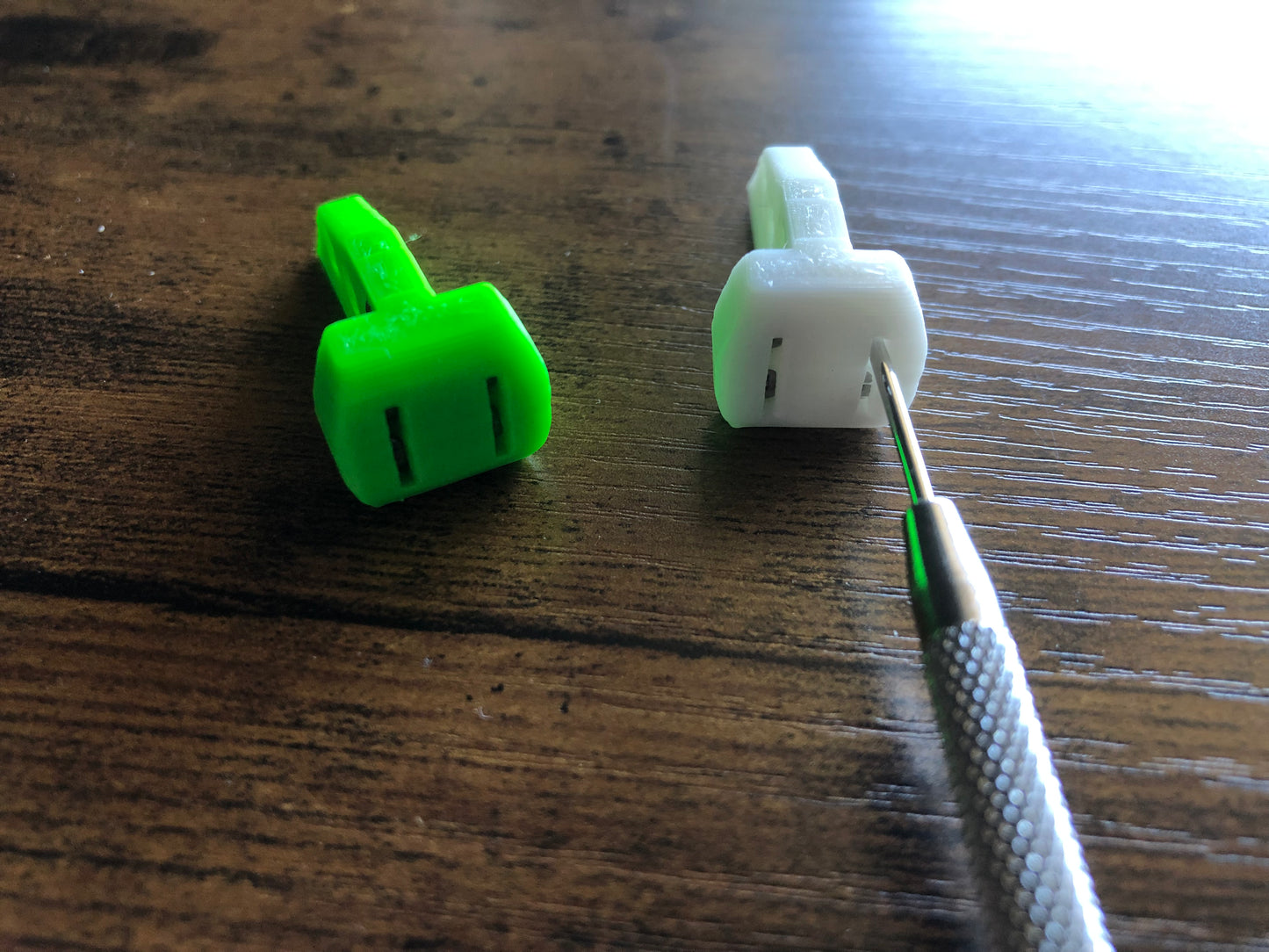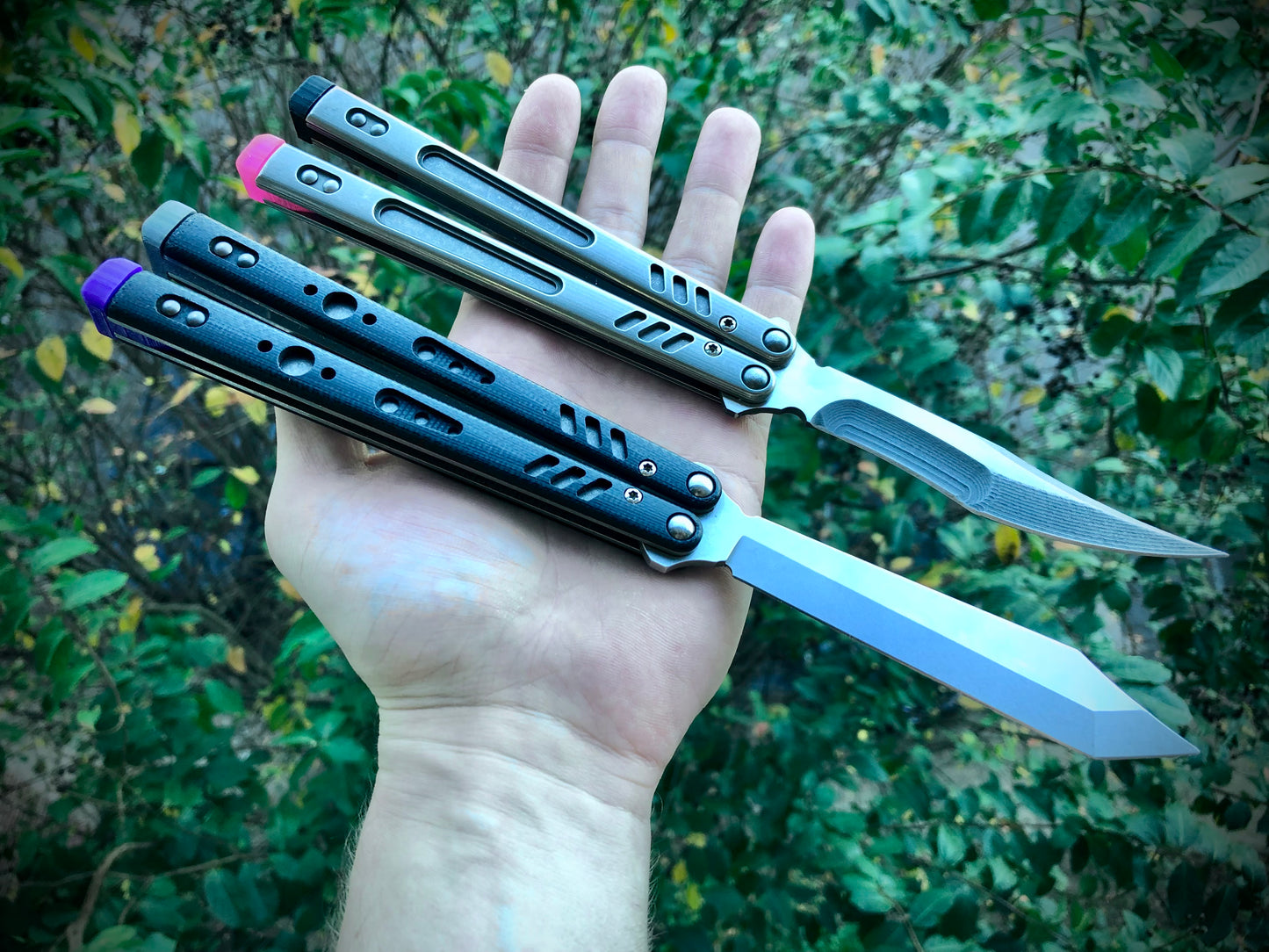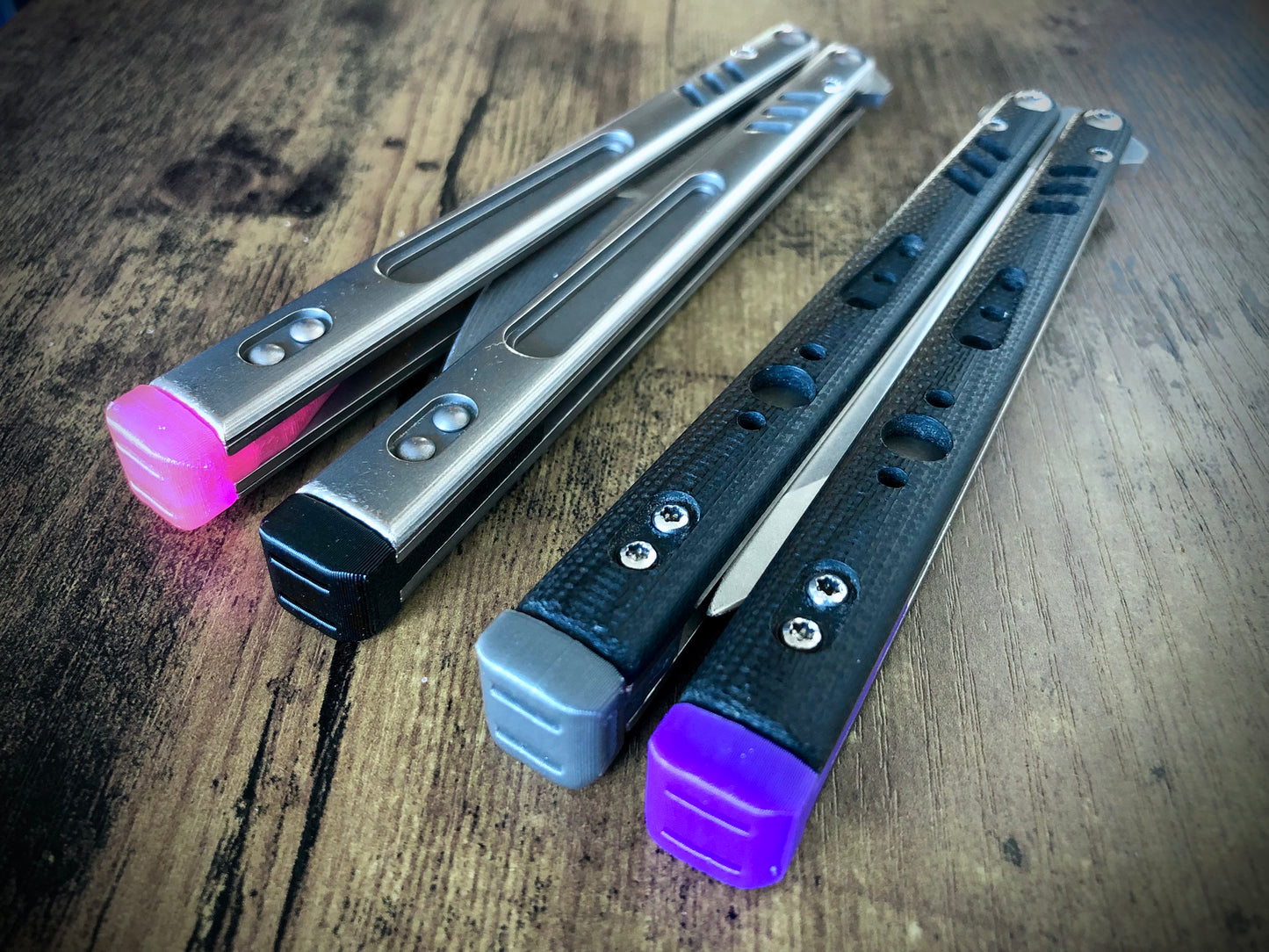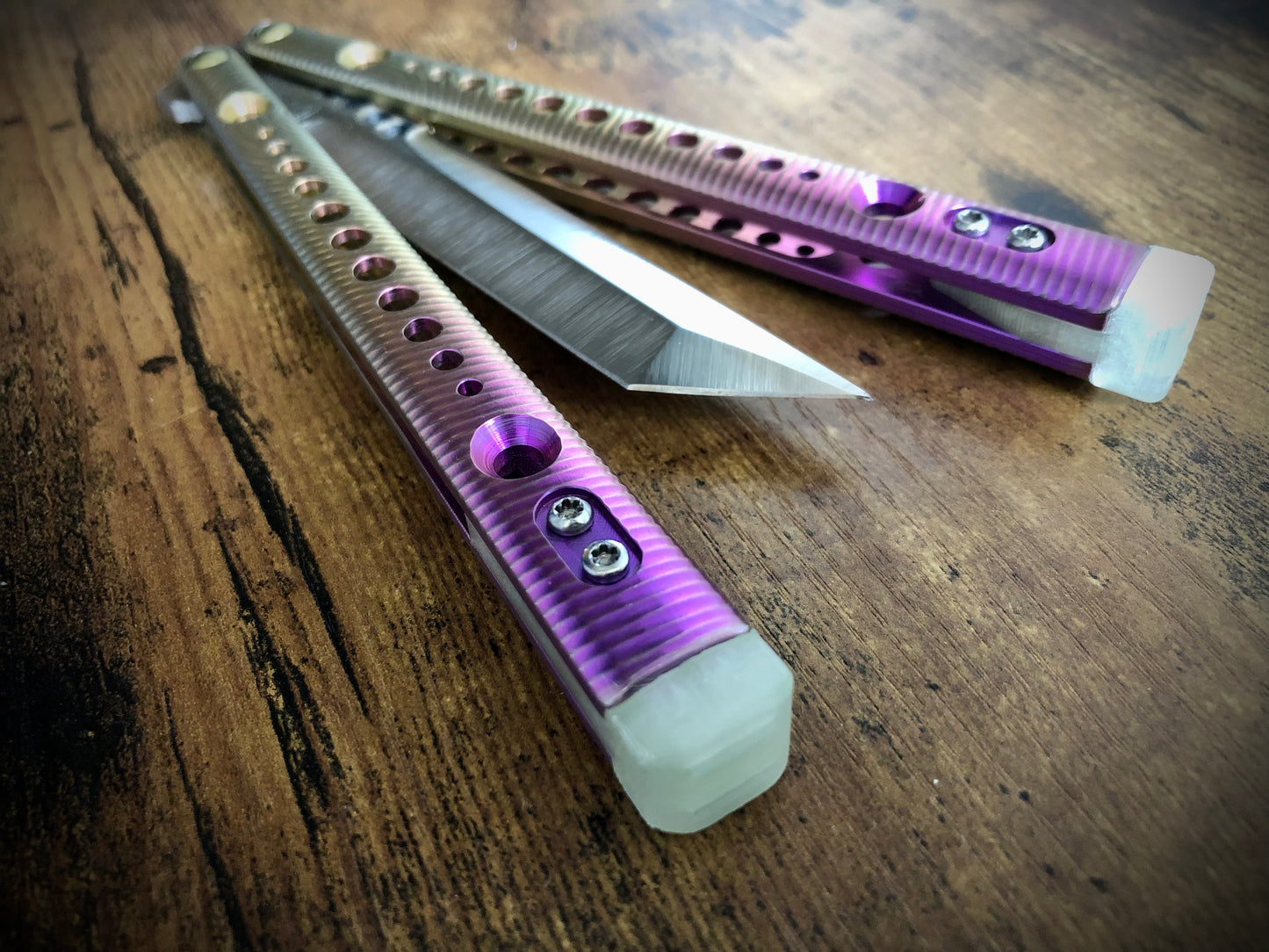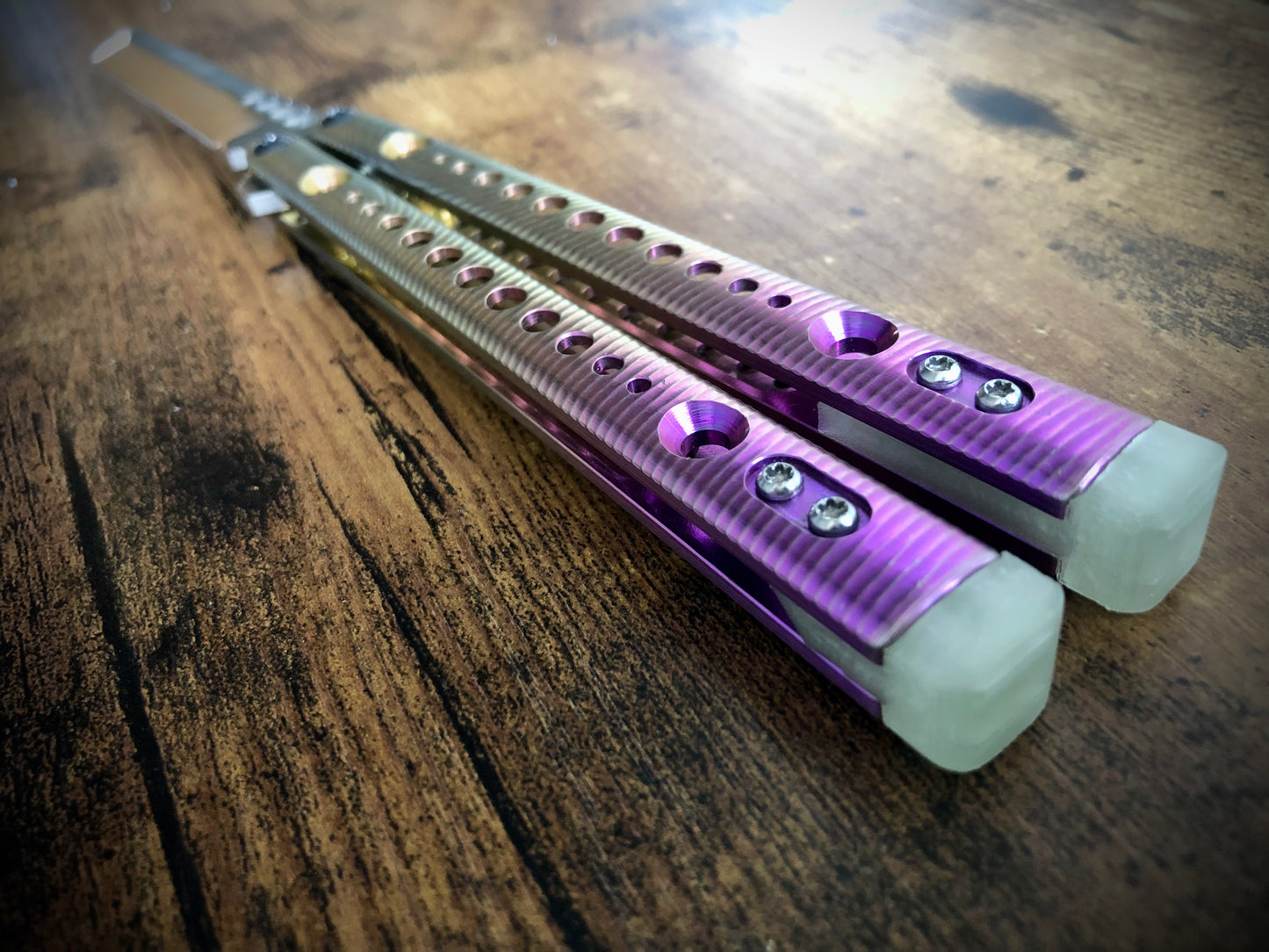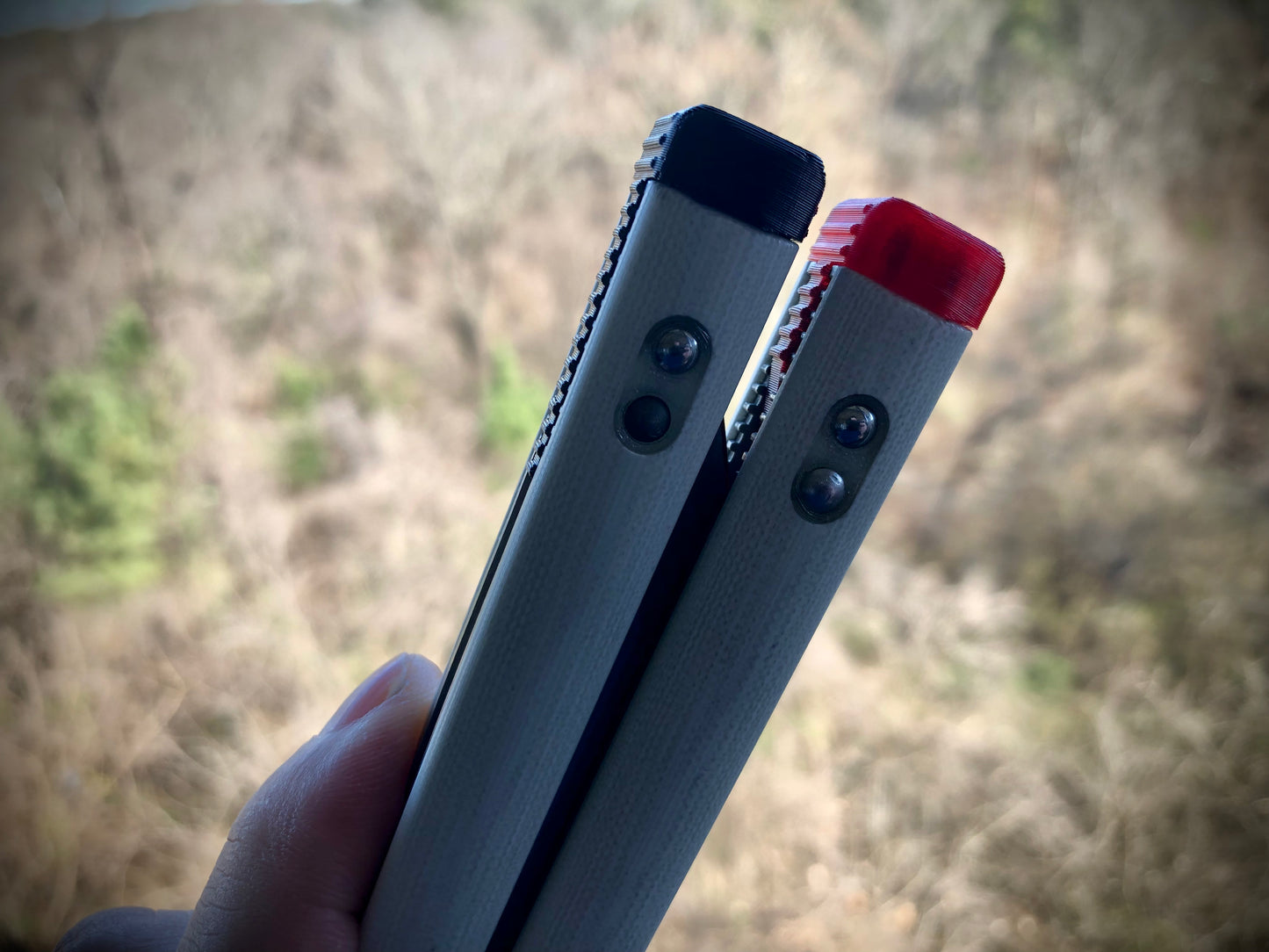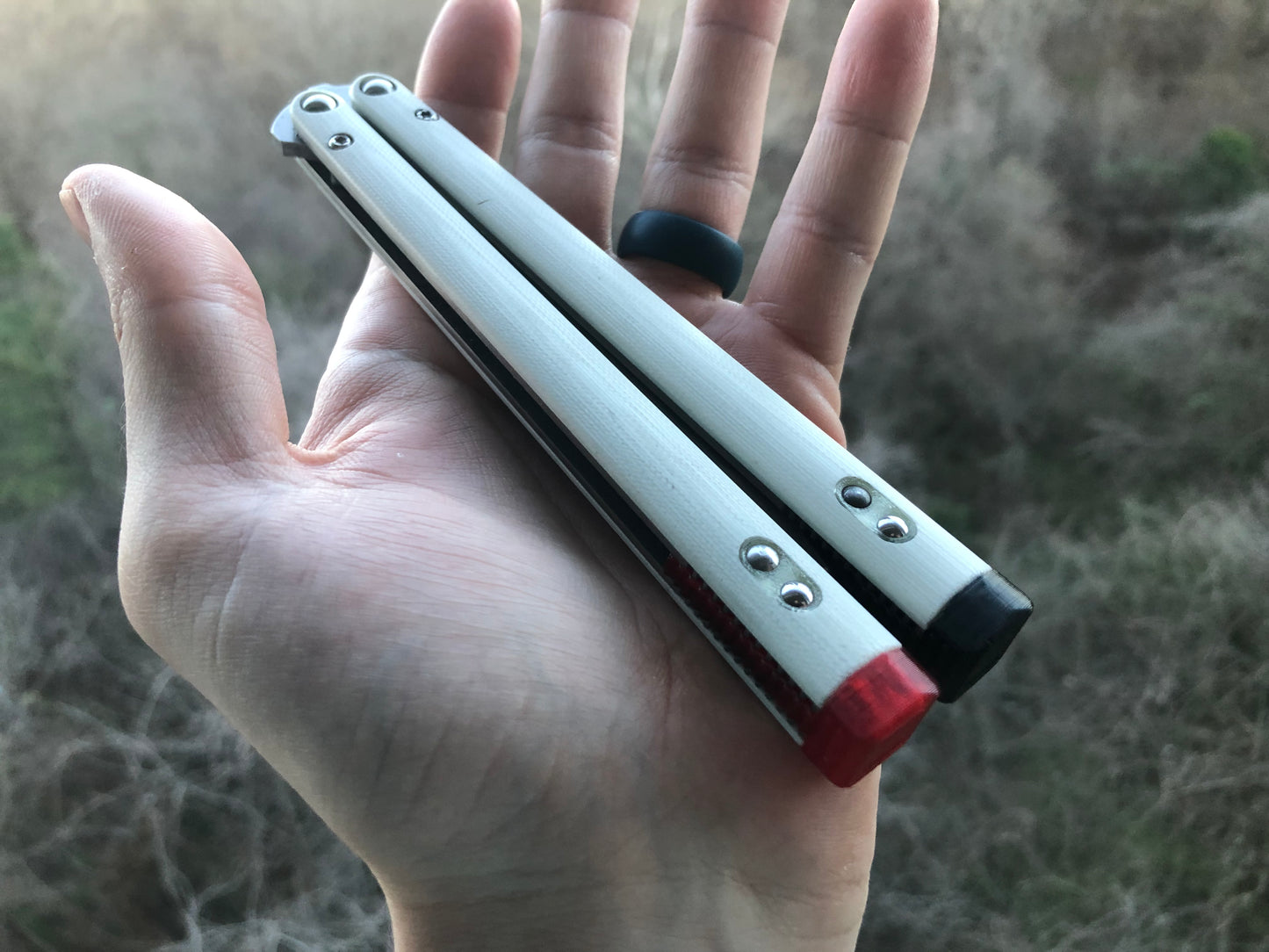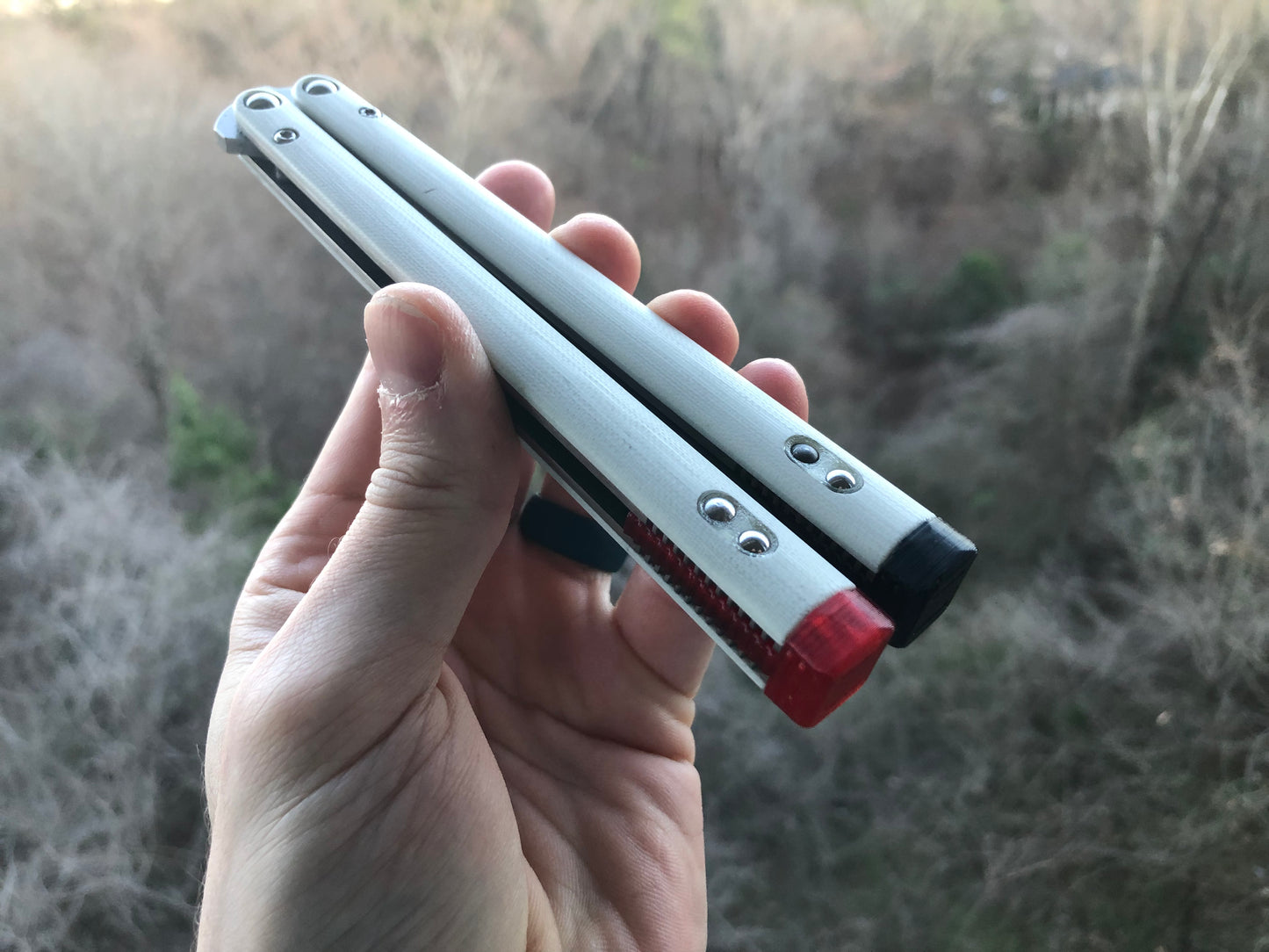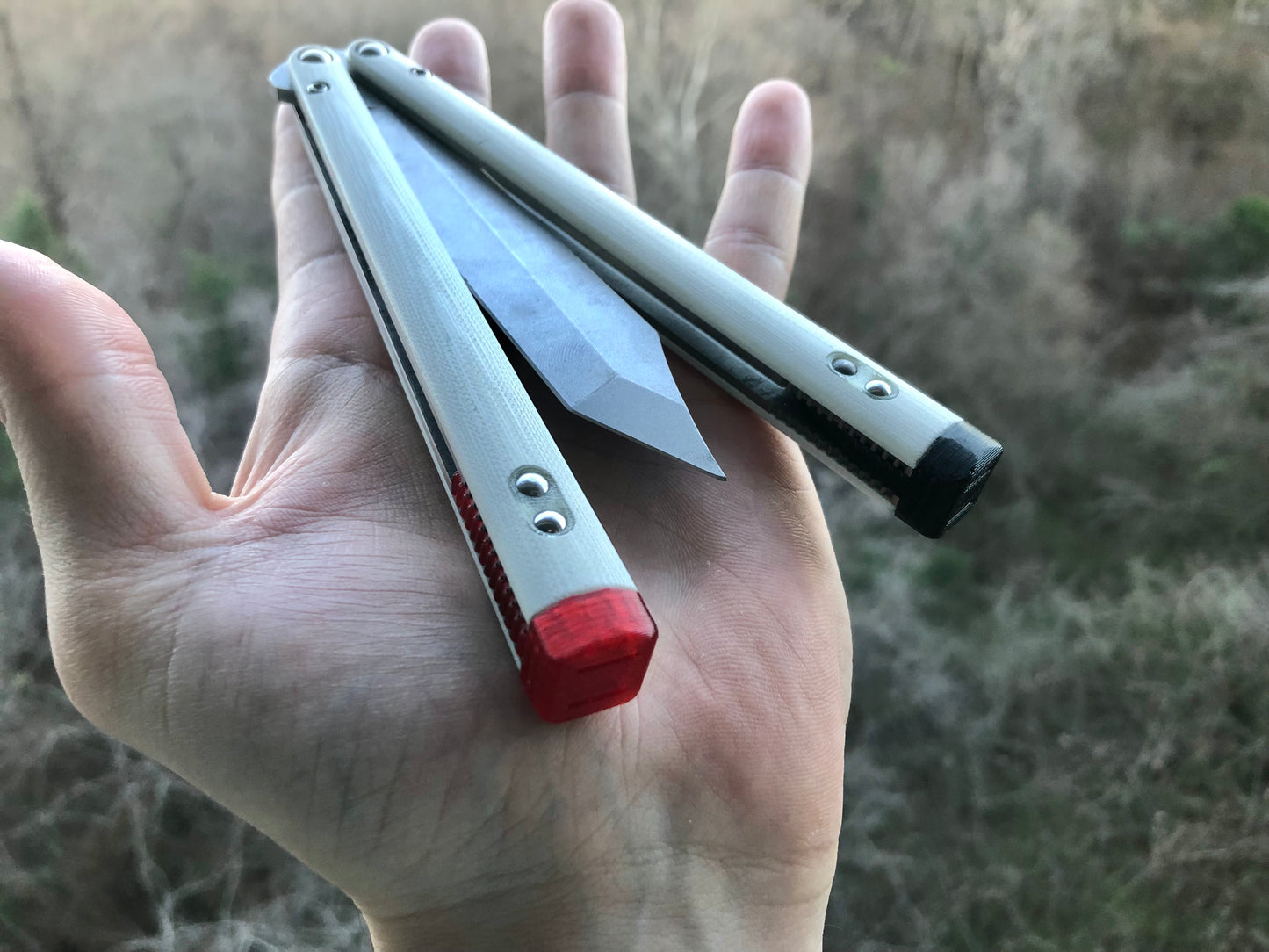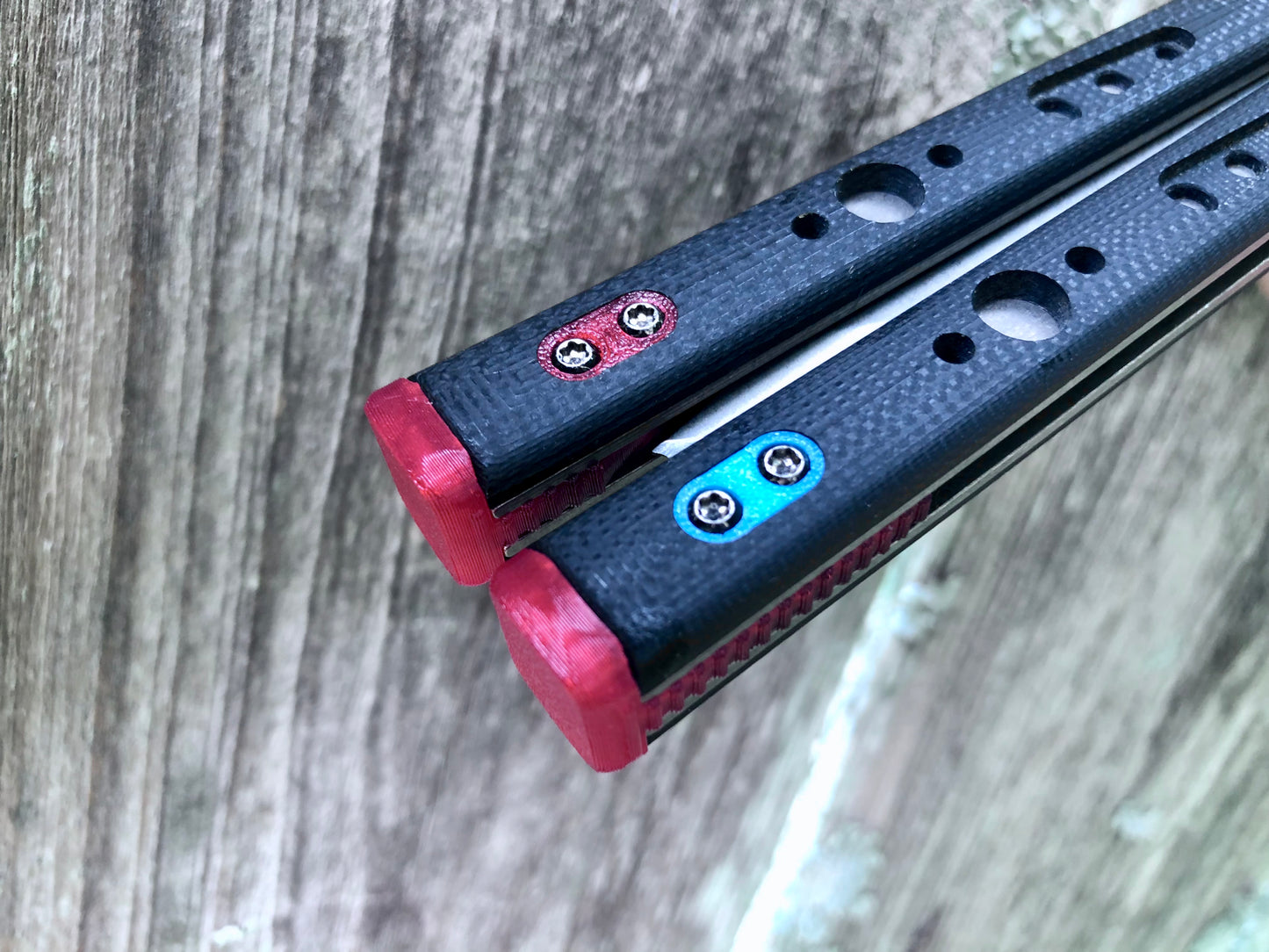 Everyone wants a little extra length
Don't try denying it we have all thought it at one point in our lives..."Dang I wish I had just a little extra length."
Well your prayers have been answered with these spacers. They give the knife "just a little extra length" and really provide some extra control. I wont flip without them, and if you flip anything like me you drop your knife a lot, and these spacers will add some protection to the handles.
So what are you waiting for? Go get yourself that extra length you've always wanted.
They are goated
My friend got some and I tried them and had to get them for myself I feel they make the rep way better because of the extra length they add and they also add way more grip
10/10 Product, 11/10 Customer Service
Long story short, Zip was super helpful in my discussions with him. The spacers fit perfectly and are priced to sell. I will be coming back.
Potentially the best Rep spacers
I know people love their ti full channels (myself included), but sometimes you just don't need that. These spacers fit the Squiggle handles perfectly, and they give me the peace of mind that my handle ends are protected from dings if I drop it. They're excellent quality and install easily.
The best possible option for Replicant customization
I ordered a set of teal spacers, and two sets of body screw inlays. Not only did zippy go far above and beyond on a personal level, but he sent a product that has ultimately changed my flipping game forever. The spacers look, feel, and fit perfectly, and once I got my preference of weights dialed in, I instantly was flipping better than I ever have before. As far as cosmetically, my opinion might be biased considering it's obviously my personal rep, but I genuinely think I have one of the best looking replicants in the game because of the zippy spacers. Every rep I ever own from now on will 100% be getting a set of the spacers and inlays. 1000000000000/10 products.
Product Information
International shipping

International Shipping

Zippy ships international, but the buyer accepts the risk for lost, damaged, or seized packages-it is the customer's responsibility to comply with all local laws and regulations when importing and using this product. It is the customer's responsibilities to be aware of all import requirements when ordering, including but not limited to paying customs/import/duty fees. All international customers: it is your responsibility to looking up your country's customs requirements when you order to ensure you are in compliance, and interface with your country's customs and pay all associated fees if necessary.

For EU customers, be advised that customs will apply a VAT fee of approximately 30€ for importing products that exceed 100€. This is subject to change depending on up-to-date EU regulations; it is the customer's responsibility to verify this at the time of your purchase.

For questions and concerns (looking at you, Aussies), please contact me at zippybalisong@gmail.com. If the Zippy is shipped in 2 packages, you will need to assemble the trainer following these instructions:

My package hasn't arrived, or my package is lost; what should I do?

Noooooo! Don't panic yet. So far I've never actually had a package get lost in the mail, although delays with USPS aren't unheard of, especially if the shipping is international. If you're a US-customer and your package is lost in the mail, appears lost in the mail, or was marked delivered but wasn't actually delivered, call the USPS immediately (1-800-275-8777)**. The faster they get on the case, the more likely you'll reach a timely resolution and get your Zippy ASAP. You can email me about it, but once I ship it out, I don't have access to any additional information that you don't--I'm just going to refer you to call the shipping carrier for resolution.

**Some tips when calling USPS:

(1) Do not use speakerphone, as this will confuse the automated system.

(2) From the automated menu, say "Package," and follow the prompts with your tracking number.

(3) When it offers "visual mode," I recommend you use it. It's faster and more streamlined.

(4) At the end of the automated system which will track your (delayed) package, say "agent" or "representative" so you can speak to an agent and explain the issue.

(5) Sometimes they only allow the sender to open an investigation. If that's the case, shoot me an email asking for the shipping label, and then use the return address information on the shipping label to provide the sender information.

If you are an international customer and your package hasn't arrived yet, contact your local postal service that interfaces with USPS to evaluate the situation--worst case scenario you may need to reach out to customs to see if your package made it through or was seized. It is the customer's responsibility to comply with all local laws and regulations when importing my products.

Hopefully your package is just delayed (this has always been the case historically when a package appears lost), but if it is actually lost in the mail, I'm very sorry. Believe it or not, it's just as heartbreaking for me as it is for you, since I make every balisong myself and put a lot of love into each one. Unfortunately, I am unable to take responsibility for packages that get lost in the mail (or seized by customs). I offer a variety of shipping options which have different levels of pricing and reliability/risk, and it's up to you to choose what is best for you. I am unable to replace lost packages for free, since each product takes me a considerable amount of time and financial investment to make; I'm not a big Amazon company that manufactures their stuff overseas. Thank you for understanding.
Warranty & Returns

Warranty

If part of the Zippy breaks within 1 year of purchase and it affects functionality, I will replace it for free. Contact me at zippybalisong@gmail.com

In order to qualify for this policy, the issue must affect the function of the balisong. Normal wear and tear (including scratches and dings caused by repeated impact) is not covered by this warranty unless it affects the functionality of the balisong or I determine it to be the result of a manufacturing defect. In order to reduce cost for the customer, the Diode is not covered under the Zippy Warranty. Replacement Diode parts can be purchased here.

Worn M2 x 0.4mm nylock nuts are consumables and should be replaced from time to time if you disassemble frequently--these are not covered by the warranty.

Returns & Order Cancellation

I do not accept returns or refunds. All orders are final. Packages that are delayed or lost in the mail are not my responsibility. Many of my products are made-to-order and by the time you contact me to cancel, I may have already begun working on your parts. I am a one-man operation and returns are far too time consuming and costly to deal with. I appreciate you supporting my small business.